Is Kim Sejeong Open To Dating Coworkers? 'Business Proposal' Star Spills The Tea!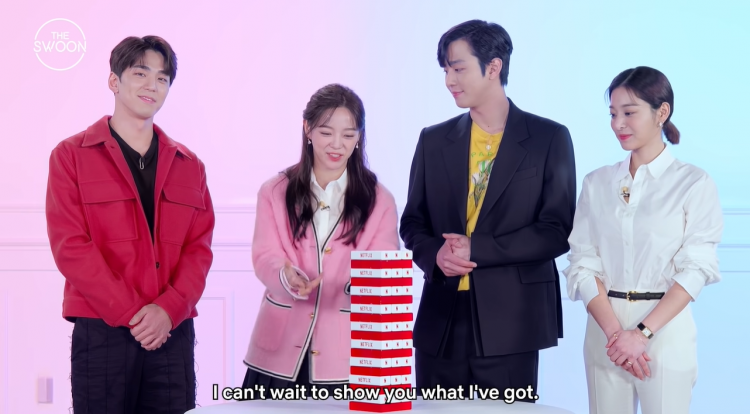 Will superstar Kim Sejeong (aka Se Jeong) date a coworker if given the chance? "Business Proposal" star answers the question and explains why in a recently featured video.
READ: Already Making Moves: Kim Sejeong Confirmed For A New K-Drama When 'Business Proposal' Concludes!
Former K-pop idol and current actress Kim Sejeong is currently starring in the immensely popular K-drama entitled "Business Proposal," and recently, the cast of the K-drama was featured by The Swoon in a video. Here, Sejeong was asked a particular question.
Specifically, the cast of the K-drama "Business Proposal" appeared on Netflix's The Swoon, and they played a fun game of Jenga, answered some juicy questions, and overall completed missions with one another.
When it was Kim Sejeong's turn in a certain segment of the show, the question former K-pop idol and current actress was asked was, "would you ever date a coworker?"
READ: Kim Sejeong Goes Viral As She Reacts To Haters In The Most Graceful Way Possible!
Kim Sejeong then answered that she would not date a coworker. Her reason? Mainly because she is very bad at keeping secrets. Due to this, Kim Sejeong's face would immediately reveal the relationship almost instantaneously.
"I'd never date a coworker. I'm not confident I could keep it a secret. I'm a terrible liar. It shows on my face. I'm not confident I could do it," Kim Sejeong responded.
Kim Sejeong's answer was well received as it is quite difficult to have a private life, specifically since the is in the entertainment industry. Thus, dating a 'coworker' would mean dating a fellow K-drama or K-movie actor and perhaps a fellow K-pop star.
READ: 'A Business Proposal' Actress Kim Sejeong Postpones Fanmeeting
Netizens, "Business Proposal" viewers, K-drama fans, and Kim Sejeong's personal fans were happy with the actress's answers as they were pure, honest, and straight to the point.
© 2022 Korea Portal, All rights reserved. Do not reproduce without permission.
Tags:
Business Proposal
,
Business Proposal news
,
Business Proposal updates
,
Business Proposal kdrama
,
Business Proposal cast
,
cast of Business Proposal
,
kwave
,
kwave news
,
kwave updates
,
Kdrama
,
kdrama news
,
kdrama updates
,
Sejeong Business Proposal
,
Business Proposal Sejeong
,
Kim Sejeong Business Proposal
,
Business Proposal Kim Sejeong
,
Kim Sejeong
,
Kim Sejeong News
,
Kim Sejeong Updates
,
Sejeong
,
Sejeong news
,
Sejeong updates