SISTAR's Soyou Covers 'ELEVEN', IVE's Wonyoung Receives Backlash From Netizens Due To Her 'Reaction'!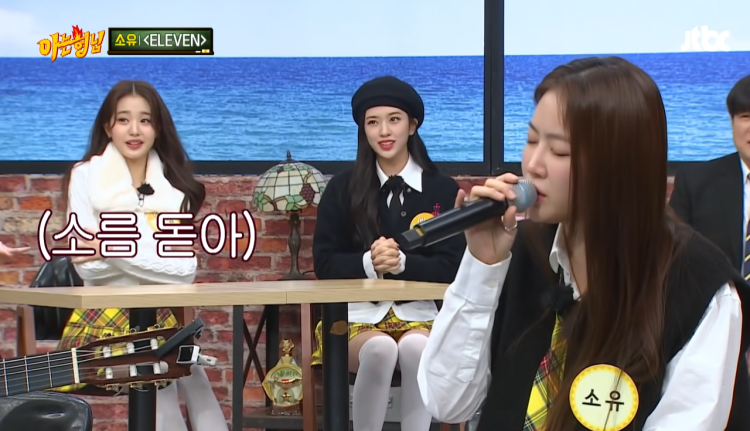 Are some netizens and K-pop fans going too far?
The New Year special episode for the JTBC's popular show "Knowing Bros" had an amazing line-up of guests which included Park Mi Sun, Hyun Young, and K-pop stars former SISTAR member Soyou, and both of IVE's very own Jang Wonyoung and Ahn Yujin.
READ: Netizens Upset At IVE's Stylist Due To Supposed Favoritism Towards Wonyoung With Outfits!
In the "Knowing Bros" episode, K-pop icon Soyou performed a cover of IVE's hit debut track, "ELEVEN."
When netizens and K-pop fans heard Soyou's voice, they immediately showered the 2nd generation K-pop idol with compliments due to her amazing cover of IVE's "ELEVEN." The K-pop idol initially made a ballad melody of "ELEVEN," and she slowly turned up the beat.
The former Sistar member was then also praised for her amazing vocals, making the hip and upbeat K-pop song from IVE even more emotional and raw. It showed how much of a veteran Soyou is due to her amazing skills in vocals.
READ: Red Velvet's Irene, ITZY's Yuna, aespa's Karina, & IVE's Wonyoung: The 2021 SBS Gayo Daejeon Queens!
Some K-pop fans even went as far as to say that Soyou's cover of "ELEVEN" was better than IVE's original song due to her smooth vocals.
Notably, while a lot of K-pop fans were in awe at Soyou's cover of "ELEVEN," some were focused on Jang Wonyoung and Ahn Yujin's reaction, as the IVE members were the original singers of the track.
While some K-pop fans commented on how proud they were at Yujin's reactions, some were criticizing Wonyoung on how she reacted to the K-pop veteran's cover.
As Wonyoung noticeable did her best to be excited and show support for Soyou, many claimed IVE Wonyoung's reactions were supposedly "ingenuine" and "forced." Other K-pop fans also claimed that Wonyoung's response and show of support were minimal compared to IVE's Yujin.
Was IVE's Wonyoung really not interested? Or is there a clearer explanation?
© 2022 Korea Portal, All rights reserved. Do not reproduce without permission.
Tags:
kwave
,
kwave news
,
kwave updates
,
Kpop
,
kpop news
,
Kpop updates
,
JTBC
,
JTBC News
,
JTBC Updates
,
JTBC shows
,
JTBC programs
,
JTBC show
,
JTBC program
,
JTBC Knowing Bros
,
Knowing Bros
,
Knowing Bros news
,
Knowing Bros updates
,
Knowing Bros New Year special episode
,
New Year special episode Knowing Bros
,
Sistar
,
SISTAR Soyou
,
Soyou
,
Soyou news
,
Soyou updates
,
Soyou ELEVEN
,
Soyou ELEVEN cover
,
Eleven
,
ELEVEN cover
,
Starship Entertainment
,
Starship Entertainment news
,
Starship Entertainment updates
,
Starship Entertainment artists
,
Starship Entertainment IVE
,
Starship Entertainment IVE Wonyoung
,
Starship Entertainment IVE Jang Wonyoung
,
Starship Entertainment IVE Ahn Yujin
,
Starship Entertainment IVE Yujin
,
Starship Entertainment Yujin
,
Starship Entertainment Wonyoun
,
Starship Entertainment Ahn Yujin
,
Starship Entertainment Jang Wonyoung
,
IVE
,
IVE news
,
IVE updates
,
IVE Wonyoung
,
IVE Wonyoung news
,
IVE Wonyoung updates
,
IVE Yujin
,
IVE Yujin news
,
IVE Yujin updates
,
Wonyoung
,
Wonyoung news
,
Wonyoung updates
,
Yujin
,
Yujin news
,
Yujin updates