IVE's Wonyoung & Yujin To Be Guests On 'Knowing Bros' Alongside Former SISTAR Member Soyou & More!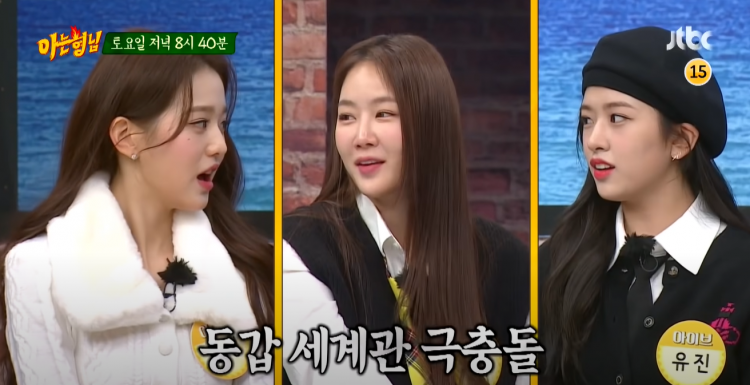 Next week's episode of "Knowing Bros" seems to be an amazing one as IVE's Wonyoung and YuJin will be strutting their stuff alongside soloist and former SISTAR member Soyou.
With them are Park Mi Sun, Hyun Young, and Maria Leise, and together, the six will be featured as guests on "Knowing Bros."
The preview of the upcoming "Knowing Bros" episode starts off on a New Year's Eve in 1992, with the six female guests being as 'queen bees' of an all-girls high school. IVE's Yujin and Wonyoung have fun but with their seniors, which is the concept of the show.
Notably, IVE's Yujin and Wonyoung are both signed to Starship Entertainment, the agency that introduced SISTAR. Thus, it was only fitting that the two joined Soyou in performing SISTAR's "Touch My Body," which was seen in the preview.
Maria Leise, a popular American trot singer, also went on to flex her skills in Korean, both in speaking the language and in trot singing.
The preview also showed a fun competition between the female cast members of "Knowing Bros" as they chose male partners, showing that they are 'married' couples in a very fun segment.
Hilariously, IVE's Yujin and Wonyoung argue on whose 'husband' is better. Eventually, Yujin caves in and agrees that Wonyoung's comment that Kim Heechul having too many women around him was true.
Furthermore, both Soyou and Hyun Young hilariously threw water at one another, and IVE's Wonyoung joins in on the fun as she spills her glass of water on Yujin's head. The show then concludes with all the members of IVE performing "ELEVEN."
READ: IVE's 'Eleven' Continues To Receive Spotlight, Are They The Next TWICE?
The "Knowing Bros" episode will air on the 1st of January at 8:40 p.m. KST!
Stay tuned for more news and updates regarding your favorite K-pop stars!
© 2022 Korea Portal, All rights reserved. Do not reproduce without permission.
Tags:
kwave
,
kwave news
,
kwave updates
,
Kpop
,
kpop news
,
Kpop updates
,
Knowing Brothers
,
Knowing Brothers news
,
Knowing Brothers updates
,
JTBC
,
JTBC News
,
JTBC Updates
,
JTBC Knowing Brothers
,
JTBC Knowing Bros
,
Knowing Bros
,
Knowing Bros news
,
Knowing Bros updates
,
IVE Knowing Bros
,
Knowing Bros IVE
,
Knowing Brothers IVE
,
IVE Knowing Brothers
,
Starship Entertainment
,
Starship Entertainment news
,
Starship Entertainment updates
,
Starship Entertainment artists
,
Starship Entertainment IVE
,
Starship Entertainment IVE Wonyoung
,
Starship Entertainment IVE Yujin
,
Starship Entertainment Wonyoung
,
Starship Entertainment Yujin
,
IVE
,
IVE news
,
IVE updates
,
IVE Wonyoung
,
IVE Wonyoung news
,
IVE Wonyoung updates
,
IVE Yujin
,
IVE Yujin news
,
IVE Yujin updates
,
Wonyoung
,
Wonyoung news
,
Wonyoung updates
,
Yujin
,
Yujin news
,
Yujin updates
,
Sistar
,
SISTAR news
,
Sistar updates
,
SISTAR Soyou
,
Soyou
,
Soyou news
,
Soyou updates
,
Park Mi Sun
,
Park Mi Sun news
,
Park Mi Sun updates
,
Hyun Young
,
Hyun Young news
,
Hyun Young updates
,
Maria Leise
,
Maria Leise news
,
Maria Leise updates