Netizens Upset At IVE's Stylist Due To Supposed Favoritism Towards Wonyoung With Outfits!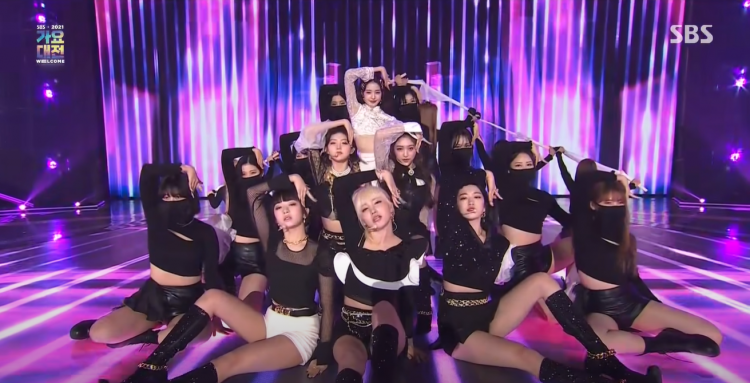 Although Starship Entertainment's IVE has only been active for less than a month, the rookie girl group has already had its share of issues, and most recently, it is their stylist who has been caught under fire.
IVE has been dubbed as 'monster rookies' due to the success of their debut song "ELEVEN," but regardless of their acclaim, fans have noticed that their outfits have been lackluster. Moreover, fans believe that IVE's Wonyoung has been getting special treatment.
This was apparently evident at the 2021 SBS Gayo Daejeon as IVE's Wonyoung was the only member in an all-white outfit. Wonyoung was rocking an outfit that was predominantly white with a touch of black accessories.
READ: Red Velvet's Irene, ITZY's Yuna, aespa's Karina, & IVE's Wonyoung, The 2021 SBS Gayo Daejeon Queens!
The other members of IVE were dressed in outfits that were mainly black with white accents.
Fans pointed out the obvious disparity during the initial formation as the backup dancers also all wore black, which made the other IVE members look like backup dancers as well.
A lot of netizens felt as if Starship Entertainment was giving emphasis on IVE's Wonyoung on purpose as she is the center. But if this is the case, this has made the other members get less attention.
But not all were against it, as a handful of netizens pointed out that this was only one of the few times where Wonyoung's outfit stood out from the other members of IVE. In most cases, all the members of IVE were dressed in similar attire.
To dispute this, other netizens have noted that in IVE's first debut stage, Wonyoung was wearing a hot pink dress, and the others IVE members were rocking dark colors.
READ: BTS, IVE, IU, aespa, & More, December's Most Popular Korean Singers!
Stay tuned for more news and updates regarding your favorite K-pop stars!
© 2023 Korea Portal, All rights reserved. Do not reproduce without permission.
Tags:
kwave
,
kwave news
,
kwave updates
,
Kpop
,
kpop news
,
Kpop updates
,
SBS
,
SBS news
,
SBS updates
,
SBS Gayo Daejeon
,
SBS Gayo Daejeon news
,
SBS Gayo Daejeon updates
,
2021 SBS Gayo Daejeon
,
2021 SBS Gayo Daejeon news
,
2021 SBS Gayo Daejeon updates
,
The 2021 SBS Gayo Daejeon
,
The 2021 SBS Gayo Daejeon news
,
The 2021 SBS Gayo Daejeon updates
,
Starship Entertainment
,
Starship Entertainment news
,
Starship Entertainment updates
,
Starship Entertainment Wonyoung
,
Starship Entertainment IVE Wonyoung
,
Starship Entertainment Jang Wonyoung
,
Starship Entertainment IVE Jang Wonyoung
,
Starship Entertainment IVE
,
IVE
,
IVE news
,
IVE updates
,
IVE Wonyoung
,
IVE Wonyoung news
,
IVE Wonyoung updates
,
IVE Jang Wonyoung
,
IVE Jang Wonyoung news
,
IVE Jang Wonyoung updates
,
Wonyoung
,
Wonyoung news
,
Wonyoung updates
,
Jang Wonyoung
,
Jang Wonyoung news
,
Jang Wonyoung updates