BTS, NCT, Stray Kids, & more: The Most Popular K-Pop Boy Groups Of January 2022!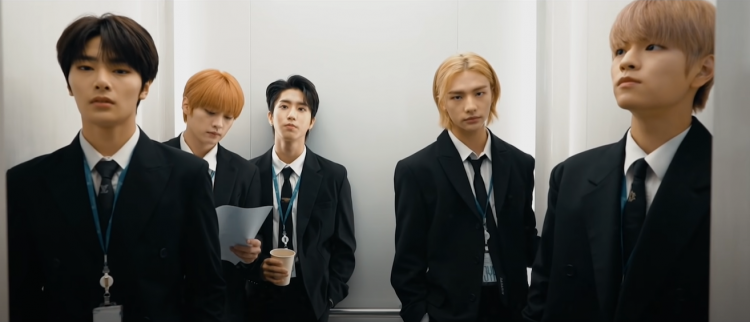 The Korean Business Research Institute finished 2021 with a bang as they previously dropped their rankings regarding the popularity of overall Korean stars, which include K-pop boy groups, girl groups, and soloists, hosts and MCs, actors and actresses, and many more!
READ: BTS, Yoo Jae Suk, IU, IVE, TWICE, & More: The Most Popular Korean Stars For December!
Starting 2022 the right way, they once again released a brand reputation ranking but this time for K-pop boy groups. Did your favorite K-pop boy group make the cut in terms of popularity? Find out here!
The data that The Korean Business Research Institute gathered regarding the brand reputation rankings for K-pop boy groups ranges from the dates of the 8th of December 2021 up until the 8th of January 2022!
Taking the 5th and 4th place, respectively, are SM Entertainment's K-pop boy group EXO tallying a total score of 2,447,571, and Wanna One with a brand reputation index of 2,944,370 for this January 2022.
NCT, another K-pop boy group under SM Entertainment, went on to rank a close third with a brand reputation index of 3,643,859 for this year's January!
Maintaining their place at the 2nd spot is SEVENTEEN as they went on to collect a brand reputation index of 3,665,984 for January.
ARMYs welcomed January with warm applause as BTS once again took home gold for the 44th straight month with a brand reputation index of 11,027,000!
Here is the full top 30 list for K-pop boy groups in terms of brand reputation ranking for the month of January:
#30 2AM
#29 Golden Child
#28 Shinhwa
#27 PENTAGON
#26 TREASURE
#25 TVXQ
#24 BIGBANG
#23 WINNER
#22 VIXX
#21 Highlight
#20 INFINITE
#19 NU'EST
#18 FTISLAND
#17 ATEEZ
#16 BTOB
#15 SF9
#14 TXT
#13 Super Junior
#12 SHINee
#11 ENHYPEN
#10 Stray Kids
#9 MONSTA X
#8 ASTRO
#7 THE BOYZ
#6 2PM
#5 EXO
#4 Wanna One
#3 NCT
#2 SEVENTEEN
#1 BTS
READ: ASTRO's Cha Eun-Woo, Stray Kids' Hyunjin, & More, 2021's Most Handsome K-pop Idols According To Fans!
Congratulations to all the K-pop boy groups who ranked high this January!
© 2023 Korea Portal, All rights reserved. Do not reproduce without permission.
Tags:
kwave
,
kwave news
,
kwave updates
,
Kpop
,
kpop news
,
Kpop updates
,
kpop boy groups
,
kpop boy group
,
The Korean Business Research Institute
,
The Korean Business Research Institute brand reputation rankings
,
The Korean Business Research Institute news
,
The Korean Business Research Institute updates
,
The Korean Business Research Institute brand reputation rankings kpop groups
,
The Korean Business Research Institute brand reputation rankings kpop boy groups
,
brand reputation rankings
,
brand reputation rankings news
,
brand reputation rankings updates
,
kpop boy groups brand reputation rankings
,
brand reputation rankings kpop boy groups
,
brand reputation rankings boy groups
,
boy groups brand reputation rankings
,
2AM
,
2AM News
,
2AM Updates
,
Golden Child
,
Golden Child news
,
Golden Child updates
,
Shinhwa
,
Shinhwa news
,
Shinhwa updates
,
Pentagon
,
PENTAGON news
,
PENTAGON updates
,
Treasure
,
TREASURE news
,
TREASURE updates
,
TVXQ
,
TVXQ news
,
TVXQ updates
,
BIGBANG
,
bigbang news
,
bigbang updates
,
Winner
,
WINNER News
,
WINNER updates
,
VIXX
,
VIXX news
,
VIXX updates
,
HIGHLIGHT
,
Highlight news
,
Highlight updates
,
INFINITE
,
INFINITE news
,
INFINITE updates
,
NU'EST
,
NU'EST news
,
NU'EST updates
,
ftisland
,
FTISLAND news
,
FTISLAND updates
,
ATEEZ
,
ATEEZ news
,
ATEEZ updates
,
BtoB
,
BTOB news
,
BTOB updates
,
SF9
,
SF9 news
,
SF9 updates
,
TXT
,
TXT news
,
TXT updates
,
Super Junior
,
Super Junior news
,
Super Junior updates
,
SHINee
,
SHINEe News
,
SHINEe Updates
,
Enhypen
,
ENHYPEN news
,
ENHYPEN updates
,
stray kids
,
Stray Kids News
,
Stray Kids Updates
,
MONSTA X
,
monsta x news
,
monsta x updates
,
ASTRO
,
ASTRO news
,
ASTRO updates
,
The Boyz
,
THE BOYZ news
,
THE BOYZ updates
,
2PM
,
2PM news
,
2PM Updates
,
EXO
,
exo news
,
EXO updates
,
Wanna One
,
Wanna One news
,
Wanna One updates
,
NCT
,
NCT news
,
NCT updates
,
Seventeen
,
seventeen news
,
Seventeen updates
,
BTS
,
bts news
,
BTS Updates