NMIXX, Chaewon & Sakura Re-Debut, & More, K-Pop Girl Group Debuts You Should Watch Out For!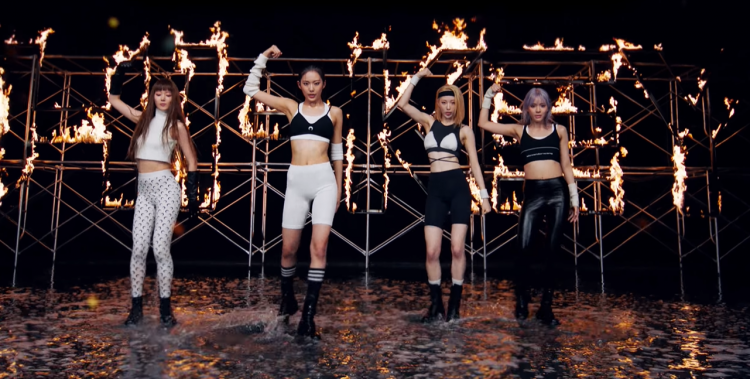 2022 seems like an amazing year for K-pop, more specifically for K-pop girl groups, as a plethora of elite artists is set to debut this year!
As of writing this article, yesterday on the 4th of January Esquire Korea noted the K-pop girl groups netizens and fans should keep an eye on for 2022.
From YG Entertainment's highly-anticipated K-pop girl group to JYP Entertainment's NMIXX, to a rumored Sakura and Chaewon re-debut, check out the full list of amazing K-pop girl group debuts for 2022:
#6 MLD Entertainment Girl Group
MLD Entertainment is preparing to debut a new girl group this year. As of writing this article, "Girls Planet 999" contestant Nonoka Shana and Filipino-Argentinian trainee Chantal Videla are slated to debut in the K-pop girl group. Nancy Yang, another trainee, is also favored to debut alongside the other two members.
#5 Source Music Girl Group
The previous home of GFRIEND, Source Music is rumored to be debuting a new K-pop girl group this year. It has supposedly been reported that former IZ*ONE members Miyawaki Sakura and Kim Chaewon are among the members to debut.
Other reports further point that former "Produce 48" contestant Huh Yunjin and trainee Yoon Chaebin will also be part of the K-pop girl group debut.
#4 ADOR Girl Group
Previously in November of last year, HYBE Labels announced ADOR for their upcoming K-pop girl group that will debut this year. The line-up has not been announced, but rumors suggest that Lee Seohyun, Kim Minji , and Ryu Hanbi are supposedly going to be part of the line-up.
#3 BABY MONSTER
The last time YG Entertainment debuted a K-pop girl group was with BLACKPINK in 2016. This year, it is expected that YG Entertainment is going to debut another global K-pop girl group, BABY MONSTER.
The current line-up is rumored to be made up of 5 members; Yang Chaeun, Noh Hyerin, Kang Seojin, Jane, and Vicky.
#2 JYPn aka NMIXX
Fans have been waiting for JYP Entertainment's upcoming K-pop girl group NMIXX (aka JYPn) as the agency has been teasing fans since August of last year.
JYP Entertainment's K-pop girl group consists of seven members and is made up of Lily M, Haewon, Sullyoon, Jinni, BAE, Jiwoo, and Kyujin. The K-pop girl group is slated to make its debut this February!
#1 H1-KEY
Although already making their debut as of writing this article with "ATHLETIC GIRL," HI-KEY is the first K-pop girl group under Grandline Group. The group is made up of the members Seoi, Sitala, Riina, and Yel.
Stay tuned for more news and updates regarding your favorite K-pop artists!
© 2022 Korea Portal, All rights reserved. Do not reproduce without permission.
Tags:
kwave
,
kwave news
,
kwave updates
,
Kpop
,
kpop news
,
Kpop updates
,
Kpop group
,
kpop group debut
,
kpop girl group
,
kpop girl group debut
,
kpop girl group 2022 debut
,
kpop girl group debut 2022
,
kpop debut
,
kpop debut 2022
,
MLD Entertainment
,
MLD Entertainment news
,
MLD Entertainment updates
,
Nonoka Shana
,
Chantal Videla
,
Nancy Yang
,
Source Music
,
Source Music news
,
Source Music Updates
,
Miyawaki Sakura
,
Sakura
,
Kim Chaewon
,
Chaewon
,
Huh Yunjin
,
Yoon Chaebin
,
ADOR
,
ADOR news
,
ADOR updates
,
HYBE
,
HYBE news
,
HYBE updates
,
YG Entertainment
,
YG Entertainment news
,
YG Entertainment updates
,
baby monster
,
BABY MONSTER news
,
BABY MONSTER updates
,
Yang Chaeun
,
Noh Hyerin
,
Kang Seojin
,
Jane
,
Vicky
,
JYP Entertainment
,
JYP Entertainment news
,
JYP Entertainment updates
,
JYPn
,
JYPn news
,
JYPn updates
,
NMIXX
,
NMIXX news
,
NMIXX updates
,
Lily M
,
Haewon
,
Sullyoon
,
Jinni
,
BAE
,
Jiwoo
,
Kyujin
,
H1-KEY
,
H1-KEY news
,
H1-KEY updates
,
Grandline Group
,
Grandline Group news
,
Grandline Group updates
,
Seoi
,
Sitala
,
Riina
,
Yel