Superstar Gong Yoo Addresses The Surprising Mixed Reactions Towards His Drama 'The Silent Sea'!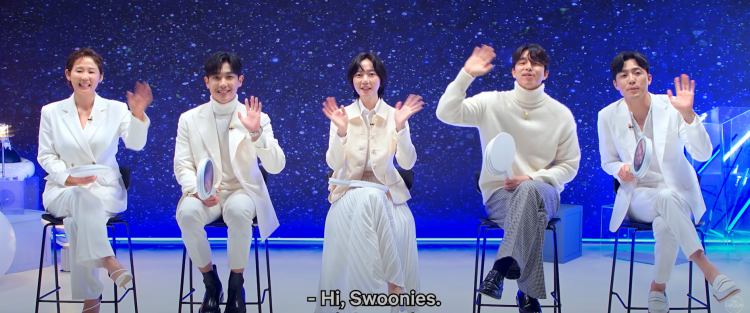 The recent Netflix drama "The Silent Sea" is set in the future on a barren Earth and is about an investigative team sent to an abandoned base for a mission. Fans were excited about the drama, but surprisingly, "The Silent Sea" has gone on to get mixed reactions.
READ: Gong Yoo's Newest Netflix Series 'The Silent Sea' Receives Negative Reviews
Starring the ever-talented Gong Yoo as the team's leader Han Yoon Jae and Bae Doona as the astrobiologist Song Ji Ahn, many fans were excited for its release.
"The Silent Sea" on paper had amazing production visuals and a powerhouse cast. But although the drama performed well on Netflix, overall, viewers had mixed reactions.
In a recent online interview on the 30th of December, Gong Yoo talked about his year and also addressed criticism the drama "The Silent Sea" has taken.
As per the actor, he watched it with a sense of satisfaction with the results. Gong Yoo did not have a specific desire to do a sci-fi genre, but he really wanted to do a series that was in a specific genre. Thus, that was when he stumbled upon "The Silent Sea." Coincidentally, it was sci-fi, and overall, the actor was very satisfied with how the drama came out.
Gong Yoo went on to add that when he received the script and started working on the drama, he knew that some people would love it and some people would hate it. Since it is in the sci-fi genre, he expected that the split would be even more extreme. He believed there were many different perspectives that the drama could be approached from.
READ: 'I'm not the type that women like', Gong Yoo Surprises Netizens With Personal Comments!
"Of course, there were parts that were lacking, and I know about the small amount of negative perspectives. But I think that we made the best choices we could within the reality and class that we could achieve. It's not that we were amazing, but I think that we opened the door for potential development. I think that this is a meaningful first step for the specifically Korean space sci-fi genre. Personally, there are parts that I'm very satisfied with, and I think it was brilliant for a first step. Many people watch from different perspectives, but I think of those diverse perspectives as garnering more interest in the drama, so I'm grateful," Gong Yoo expressed proudly.
© 2022 Korea Portal, All rights reserved. Do not reproduce without permission.
Tags:
The Silent Sea
,
The Silent Sea news
,
The Silent Sea updates
,
Netflix The Silent Sea
,
The Silent Sea drama
,
The Silent Sea Netflix
,
The Silent Sea Gong Yoo
,
The Silent Sea Netflix original
,
The Silent Sea where to watch
,
kwave
,
kwave news
,
kwave updates
,
Kpop
,
kpop news
,
Kpop updates
,
Netflix
,
Netflix News
,
netflix updates
,
netflix originals
,
Netflix News
,
netflix updates
,
Netflix original series
,
Gong Yoo
,
Gong Yoo News
,
Gong Yoo Updates
,
Gong Yoo interview