Fans Think That Former IZ*ONE Member Nako Is Being Bullied By Her Japanese Co-Members!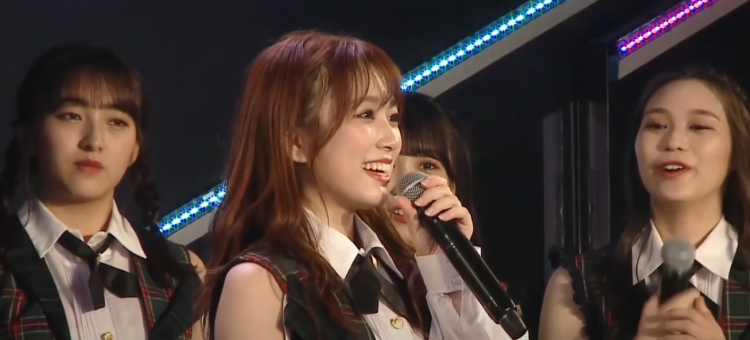 Netizens and fans were recently worried as former IZ*ONE member, Yabuki Nako, is seemingly being bullied by other members of HKT48, her Japanese group.
Notably, after her contract with IZ*ONE expired, Nako went back to Japan and officially continued her promotions with her group HKT48. Even though she went back to Japan, Nako still updates her Korean fans.
READ: LOONA, ITZY, MAMAMOO, TWICE, & More, Male & Female Fans Voted For Their Favorite K-Pop Groups!
Just recently, a certain fan began suspecting that Nako was being bullied by her fellow HKT48 members. This was brought up as the former IZ*ONE member released messages that made it seem that she was being bullied.
As per her message, Nako told her fans that she had lost her AirPods, and found them in the trash can later which has made fans suspicious. Furthermore, some fans saw Nako's fellow HKT48 members making rude facial expressions towards Nako as she spoke Korean.
Due to this, an online post has surfaced that talks about how the other HKT48 members become upset when Nako speaks Korean, something she cannot control as she was with IZ*ONE for a long time.
READ: Former IZ*ONE Member Nako Opens Up On Physical Endeavors Faced As A K-Pop Idol!
Netizens and fans have explained that Nako is sometimes made fun of on talk shows for looking more like a "Korean idol group member" rather than a Japanese idol group member.
Adding to this, Nako talked about how much she misses IZ*ONE, expressing, "I really miss IZ*ONE."
READ: Mini IZ*ONE Reunion: Miyawaki Sakura Recently Made Lee Chaeyeon Cry, Here's Why
In the online post, netizens also posted photos and videos of the other HKT48 members showing annoyed facial expressions when Nako was explaining the meaning of a certain Korean word.
Netizens and fans are hoping that all the speculations are just rumors and that Nako is doing well.
© 2023 Korea Portal, All rights reserved. Do not reproduce without permission.
Tags:
HKT48
,
HKT48 news
,
HKT48 updates
,
HKT48 Nako
,
HKT48 Nako news
,
HKT48 Nako updates
,
HKT48 Yabuki Nako
,
HKT48 Yabuki Nako news
,
HKT48 Yabuki Nako updates
,
Yabuki Nako
,
Yabuki Nako news
,
Yabuki Nako updates
,
Nako
,
Nako news
,
Nako updates
,
IZ*ONE Nako
,
IZ*ONE Nako news
,
IZ*ONE Nako updates
,
IZ*ONE Yabuki Nako
,
IZ*ONE Yabuki Nako news
,
IZ*ONE Yabuki Nako updates
,
kwave news
,
kwave updates
,
kwave
,
Kpop
,
kpop news
,
Kpop updates
,
IZ*ONE
,
IZ*ONE news
,
IZ*ONE updates
,
IZ*ONE members
,
IZ*ONE former members
,
HKT48 members