Hollywood Stars Couldn't Contain Excitement After Meeting Lee Jung Jae & Other Cast Of 'Squid Game'!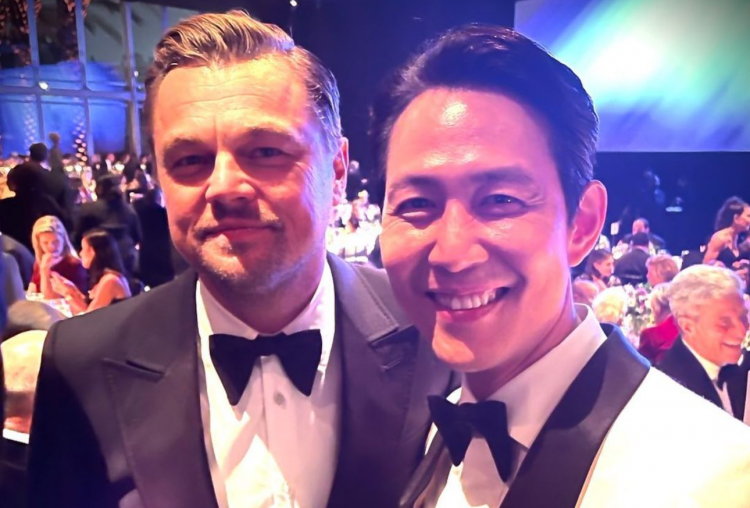 On the 16th of November, Hollywood actress Elle Fanning was featured as a guest in the popular American late-night talk show "Jimmy Kimmel Live!".
In the show, host Jimmy Kimmel asked Elle Fanning about her recent LACMA Art+Film Gala appearance, taking place at the Los Angeles Music of Art.
Notably, as she met a plethora of exciting guests at the event, Elle Fanning revealed that her favorite to be acquainted with was the cast of Squid Game. "I'm a huge 'Squid Game' fan. I love 'Squid Game', and the cast of 'Squid Game' was there," the actress revealed.
READ: Are You Ready For Another Run? 'Squid Game' Director Confirms Second Season!
As per Elle, she made it her mission to get a selfie with the "Squid Game" cast. She was really excited as she believes they are such great actors and she felt so happy that she was able to manage to get a selfie with them.
Furthermore, Elle Fanning revealed her friendship with American model Camila Morrone, who is also notably Leonardo DiCaprio's girlfriend.
Elle Fanning exclaimed, "I know Cami well, so I happened to be around Leo for some time. We both love 'Squid Game', and freaked out when we saw the cast of 'Squid Game'."
READ: Reaching New Heights: Actor Lee Jung Jae Is Now The New Global Ambassador For Gucci!
Elle Fanning also expressed that it was interesting because Leo was next to them at that time. Initially, they were trying to keep it low-key, hoping that they would not make meeting the cast of "Squid Game" a big deal, but as soon as they saw them, they could not contain their excitement.
As per Elle Fanning, Even Leo DiCaprio's eyes widened. This shows that even the most popular names in Hollywood are huge fans of "Squid Game."
After the LACMA Art+Film gala, Elle Fanning went on to upload photos that she took with the cast of "Squid Game" on her personal Instagram.
On the same day, the lead of "Squid Game" Lee Jung Jae also shared a photo of himself at the LACMA Art+Film gala with Leonardo DiCarprio.
© 2023 Korea Portal, All rights reserved. Do not reproduce without permission.
Tags:
US
,
US news
,
US updates
,
US Entertainment
,
hollywood
,
Jimmy Kimmel Live
,
Jimmy Kimmel Live news
,
Jimmy Kimmel Live updates
,
Elle Fanning Jimmy Kimmel Live
,
Jimmy Kimmel Live Elle Fanning
,
Elle Fanning
,
Elle Fanning news
,
Elle Fanning updates
,
kwave
,
kwave news
,
kwave updates
,
Kdrama
,
kdrama news
,
kdrama updates
,
Netflix
,
Netflix News
,
netflix updates
,
Netflix Squid Game
,
Squid Game
,
Squid Game news
,
Squid Game updates
,
Squid Game cast
,
Lee Jung Jae
,
Lee Jung Jae news
,
Lee Jung Jae updates
,
Jung HoYeon
,
Jung HoYeon news
,
Jung HoYeon updates
,
Park Hae Soo
,
Park Hae Soo news
,
Park Hae Soo updates