Jeon Somi Once Again Proves Her Close Bond With TWICE In Recent 'XOXO' Performance!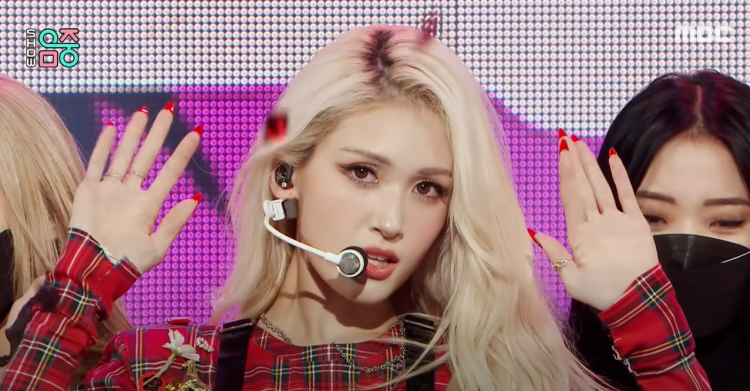 Netizens and fans once again melted as Somi showed how much she loved her unnies in her most recent performance!
Any fan of both Jeon Somi and TWICE are aware that the two artists have a super close bond. Their closeness is so strong that Somi considers them her only and closest idol friends.
READ: Netizens, Som-taengs, & Som-mungchis Cheer As Jeon Somi Reaches Historic Milestone With 'DUMB DUMB'!
Jeon Somi surely showed how much she loves and supports TWICE in her latest music show performance, and she emulated their dance moves coming from their previous hit songs.
Notably, TWICE just dropped their third studio album entitled "Formula of Love: O+T=<3" on the 12th of November, 2021, and the K-pop girl group performed "SCIENTIST," their title track from their latest album, on the 13th of November.
Coincidentally, Jeon Somi also performed on that same day, and in order to show support for TWICE, she added some of TWICE's most iconic dance moves into her "XOXO" performance on "Show! Music Core" to the delight of fans.
READ: Somi Gives The Real Reason Why She Left JYP Entertainment +Current Relationship With TWICE!
Jeon Somi notably added the cheerleading choreography from TWICE's single "Cheer Up" as well as the popular point dance step from TWICE's "TT," which, amazingly enough, fit perfectly for her choreography in "XOXO"!
Furthermore, Jeon Somi posted about her performance on Instagram to confirm it was a tribute and to support TWICE's comeback.
Notably, a fan asked Somi during a fansign to talk to Somi regarding her performance, and the soloist explained that the TWICE members said hello during her rehearsal!
Jeon Somi happily shared, "TWICE had a comeback and I - fun fact, I actually had a rehearsal today and all of the TWICE unnie-deul, they were sitting backstage and they were all watching my performance and they were cheering me. So I had so much fun! I was just giggling and laughing throughout the whole rehearsal. And then, so on stage, I did this!"
Fans are excited to see more interactions between TWICE and Jeon Somi!
© 2023 Korea Portal, All rights reserved. Do not reproduce without permission.
Tags:
MBC Show! Music Core
,
MBC
,
Show! Music Core
,
Somi Show! Music Core
,
TWICE Show! Music Core
,
Show! Music Core TWICE
,
Show! Music Core Somi
,
Jeon Somi Show! Music Core
,
Show! Music Core Jeon Somi
,
kwave
,
kwave news
,
kwave updates
,
Kpop
,
kpop news
,
Kpop updates
,
JYP
,
JYP artists
,
JYP Entertainment
,
JYP Entertainment artists
,
JYP Entertainment TWICE
,
TWICE
,
TWICE news
,
TWICE Updates
,
TWICE and Somi
,
Somi and TWICE
,
TWICE and Jeon Somi
,
Jeon Somi and TWICE
,
The Black Label
,
The Black Label Jeon Somi
,
YG The Black Label
,
YG
,
YG artists
,
YG Entertainment
,
YG Entertainment artists
,
The Black Label artists
,
The Black Label Somi
,
Somi
,
Somi News
,
Somi Updates
,
Jeon Somi
,
Jeon Somi news
,
Jeon Somi updates