TWICE Is The First K-Pop Female Act And Girl Group To Achieve This On Spotify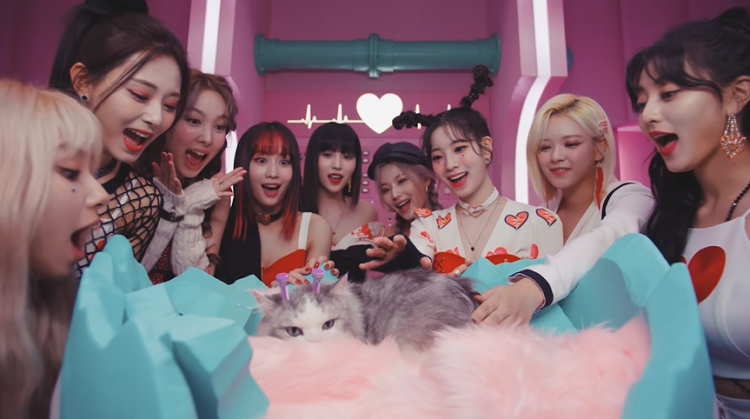 Twice dropped their third full album, "Formula of Love: O+T=<3" on November 12, and it has been well-received by fans.
In fact, "Formula of Love: O+T=<3" has sold a whopping 238,631 copies on Hanteo on its first day. This makes "Formula of Love: O+T=<3" TWICE second-highest first-day sales, next to "MORE & MORE," which sold over 274,472 copies on its first day.
TWICE's "Formula of Love: O+T=<3" is also the only girl group album to surpass 200k in first-day sales this year.
READ: Latest Album Concept, New Experiences, & More, TWICE Spills The Tea In Recent Q&A!
The music video for the title track "SCIENTIST" has also garnered so much love as it has sat atop YouTube's trending list since its release. It also became the most viewed K-Pop music video on November 12, with over 7.06 million views.
TWICE has also set another record among K-Pop girl groups. On the day of the release of "Formula of Love: O+T=<3," the JYP Entertainment girl group entered Spotify's "Top Artist Global" at No. 32. This makes TWICE the first K-Pop female act and girl group to enter the list. TWICE has also officially become the highest-charting highest charting K-Pop female act and girl group in the list.
READ: ONCEs Shocked As One Of TWICE's Songs Gets Banned For The First Time!
Not only that but two of TWICE's recent songs, "The Feels" and "SCIENTIST," charted at the same time on Spotify's "Global Chart." This is the very first time TWICE achieved such a feat!
TWICE's Nayeon, Jeongyeon, Momo, Sana, Jihyo, Mina, Dahyun, Chaeyoung, and Tzuyu deserves all the success of their recent release as it is very evident that they are working non-stop to give ONCEs happiness.
READ: Lisa, Rosé, TWICE: Best-Selling Female K-Pop Artists On Gaon For 2021
As the title of their third album says, "Formula of Love: O+T=<3," with ONCE and TWICE together, there is love. Congratulations to TWICE and ONCEs.
© 2023 Korea Portal, All rights reserved. Do not reproduce without permission.
Tags:
TWICE
,
TWICE
,
TWICE Scientist
,
TWICE news
,
TWICE Updates
,
TWICE album
,
TWICE album
,
Twice album sales
,
TWICE Nayeon
,
TWICE Jeongyeon
,
TWICE Momo
,
TWICE Sana
,
twice jihyo
,
TWICE Mina
,
TWICE Dahyun
,
Twice Chaeyoun
,
Twice Tzuyu
,
TWICE Formula of Love: O+T=<3
,
TWICE Formula of Love: O+T=<3 teaser
,
TWICE Formula of Love
,
Twice Formula of Love Album
,
Kpop
,
kpop news
,
Kpop updates
,
kwave