Singer Seo In-young Assaulted IU In A Restroom & Fought Jessi? Singer Addresses Rumors!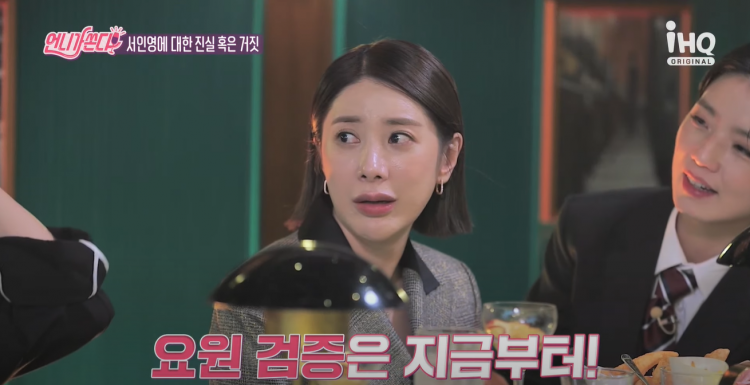 Being an artist is not just all glitz and glam. Among the most annoying things to deal with are the constant rumors as it is inevitable for malicious allegations to pop up in the entertainment industry.
This was recently evident as in the on the 2nd of November episode of iHQ's popular program "It's on Us," singer Seo In-young was featured as a special guest and in the show, she addressed a very absurd rumor.
While the hosts and guests were conversing, the MCs brought up some rumors regarding Seo In-young. The first allegation was that Seo In-young once brought popular soloist IU to the restroom to physically assault her.
Seo In-young addressed the rumor by saying, "This is totally ridiculous! I mean, why would I beat her up? That honestly never happened."
For Seo In-young, she jokingly added to lighten up the mood that if she wanted to hit someone, she would hit that person in the waiting room.
Seo In-young questioned, "Why would I even take her to the restroom in the first place?"
In her defense, Seo In-young explained that IU even revealed that it never happened between them as well.
Another absurd rumor that Seo In-young addressed was that she and Jessi, a popular Korean hip-hop artist, had a fight between them.
"I got to know Jessi when I was 17. We got along really well, because we found that we were pretty similar to one another," Seo In-young noted regarding the second rumor.
Seo In-young explained that she and Jessi were just being playful at that time, pretending that they had a fight. But for fun, Jessi told people that they got into a fight.
"She was joking, but a lot of people took it literally," Seo In-young noted.
Sometimes the best way to address rumors is to ignore them outright but highly absurd rumors need to be addressed and Seo In-young did just that.
© 2023 Korea Portal, All rights reserved. Do not reproduce without permission.
Tags:
Seo In Young
,
Seo In Young
,
Seo In Young news
,
Seo In Young updates
,
Seo In Young news
,
Seo In Young updates
,
IU
,
IU news
,
IU Updates
,
Jessi
,
Jessi news
,
Jessi updates
,
kwave
,
kwave news
,
kwave updates
,
Kpop
,
kpop news
,
Kpop updates
,
iHQ
,
iHQ news
,
iHQ updates
,
iHQ shows
,
iHQ programs
,
iHQ It's on Us
,
It's on Us