NCTzens & MYs Shocked As Dating Rumor Between NCT's Jungwoo & aespa's Karina Surface!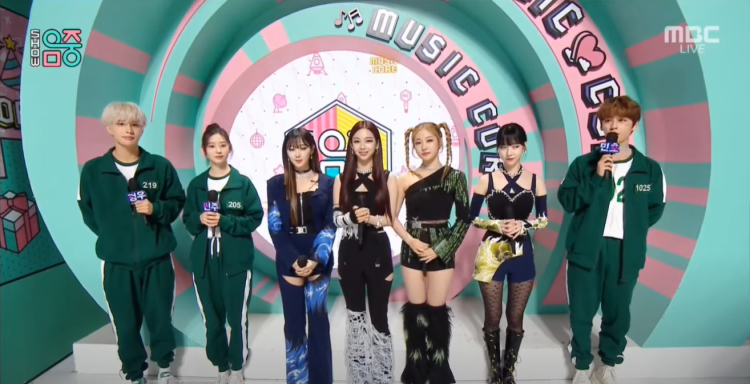 Earlier in September, Stray Kids' Hyunjin and aespa's Karina were rumored to be dating.
Stray Kids' Hyunjin and aespa's Karina's dating rumors are due to a fan spotting the background of Hyunjin's handphone being a supposed selfie of Karina.
Adding to this, Hyunjin and Karina also supposedly had matching Dear U. Lysn Bubble names as they both have blue hearts and -ie in their names. Quick on his feet, Hyunjin swiftly turned down the rumors.
But just recently, aespa's Karina has once again seen herself embroiled in another dating rumor but this time with a labelmate from SM Entertainment!
On the 29th of October, dating rumors regarding NCT's Jungwoo and aespa's Karina started to get traction as some netizens and fans have drawn connections between the two SM Entertainment K-pop idols.
After gathering 'proof' regarding aespa's Karina and NCT's Jungwoo relationship, some netizens and fans are now adamant that the two are dating.
Notably, fans have gone on to point out that NCT's Jungwoo and aespa's Karina have been recommending similar songs. Although this does not prove anything, people who share the same taste in music could be a good match.
Furthermore, netizens also expressed that NCT's Jungwoo and aespa's Karina have used similar acronyms such as "별다줄" (pronounced as Byul-Da-Juj) which means "People keep shortening/shortening things" and "오저치고" (pronounced as Oh-Jeo-Chi-Go) which means "Let's eat fried chicken tonight."
To add more fuel to the dating rumors, NCT's Jungwoo used the emoticon symbol '>_0', a symbol aespa's Karina frequently uses on Bubble!
A plethora of MYs (the fandom name of aespa) and NCTzens (the fandom name of NCT) express their doubt regarding the dating rumor but if things are confirmed, the fandoms are ready to show their support.
SM Entertainment has yet to comment on the dating rumors!
Stay tuned for more news and updates regarding your favorite K-pop artists.
© 2023 Korea Portal, All rights reserved. Do not reproduce without permission.
Tags:
kwave
,
kwave news
,
kwave updates
,
kpop news
,
Kpop
,
Kpop updates
,
SM
,
SM artists
,
SM Entertainment
,
SM Entertainment artists
,
SM Entertainment news
,
SM Entertainment updates
,
SM Entertainment aespa
,
SM Entertainment NCT
,
SM Entertainment NCT Jungwoo
,
SM Entertainment aespa Karina
,
SM Entertainment Karina
,
SM Entertainment Jungwoo
,
NCT
,
NCT news
,
NCT updates
,
NCT Jungwoo
,
NCT Jungwoo news
,
NCT Jungwoo updates
,
NCT Jungwoo and aespa Karina
,
aespa Karina and NCT Jungwoo
,
Karina and Jungwoo
,
Jungwoo and Karina
,
Jungwoo
,
Jungwoo news
,
Jungwoo updates
,
aespa
,
aespa news
,
aespa updates
,
aespa Karina
,
aespa Karina news
,
aespa Karina updates
,
karina
,
Karina news
,
Karina updates