'Showterview With Jessi' Releases Statement On Recent Controversial Episode With TWICE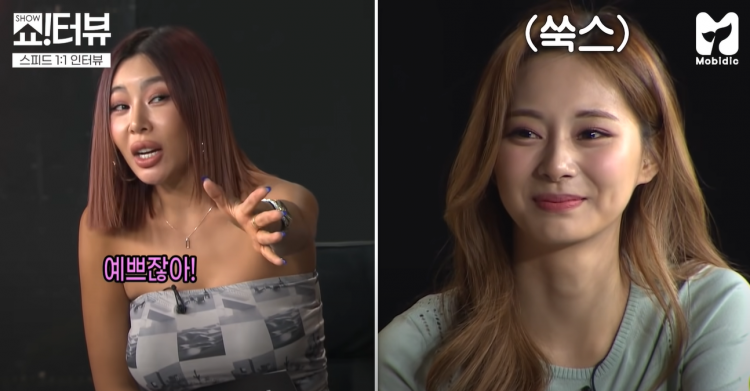 Previously on the 17th of June, the popular show "Showterview With Jessi," which had TWICE as the guests, started fiery arguments on Twitter which went out of control. Ahead of that, the team running "Showterview With Jessi" releases a statement on the issue.
The issue? Fans netizens brought up that Jessi's remarks were 'colorist' after she responded to Tzuyu's opinion on wanting lighter skin just for one day.
As per the official Instagram page of "Showterview With Jessi," the team expressed their apology towards anyone who felt attacked and anyone who felt upset and uncomfortable from Jessi's comments.
They continued by explaining that perhaps the English translation of what Jessi said made things sound more severe than they actually were.
The team around "Showterview With Jessi" noted, "When providing the English subtitles for yesterday's episode of the show with members of TWICE as guests, Jessi's comment using the word 'Ttaemiri,' which holds the meaning of cleansing by scrubbing in Korean bathing culture, was mistranslated by our team as 'dirt' instead of 'cleansing,' upsetting fans in the process."
Additionally, the team went on to add that Jessi and the members of TWICE were not intending to hurt, confuse, or offend anyone at all.
Showterview With Jessi Team added, "We, the Showterview Team, acknowledge and hold ourselves accountable for providing English subtitles that had room for misinterpretation. We will do our best to be more mindful with the subtitles moving forward. The video is currently being revised with regards to the mistranslation. We are deeply sorry for disappointing our viewers."
Moving forward, hopefully, the netizens will understand and forgive "Showterview With Jessi" and TWICE for any misunderstanding that might have been caused by the episode.
Moving forward is the best thing everyone and anyone can, and this has been a refreshing learning experience for all parties that have been involved.
© 2023 Korea Portal, All rights reserved. Do not reproduce without permission.
Tags:
Showterview with Jessi
,
Showterview With Jessi news
,
Showterview With Jessi updates
,
TWICE Showterview With Jessi
,
Showterview With Jessi TWICE
,
Jessi
,
PNATION
,
PNATION Jessi
,
Jessi PNATION
,
JYP
,
JYP artists
,
JYP Entertainment
,
JYP Entertainment news
,
JYP Entertainment updates
,
JYP Entertainment TWICE
,
JYP Entertainment TWICE news
,
JYP Entertainment TWICE updates
,
TWICE
,
TWICE news
,
TWICE Updates
,
Jessi news
,
Jessi updates