'Vincenzo Reunion' With Jeon Yeo Been, Upcoming Projects, & More, Song Joong Ki Spills The Tea!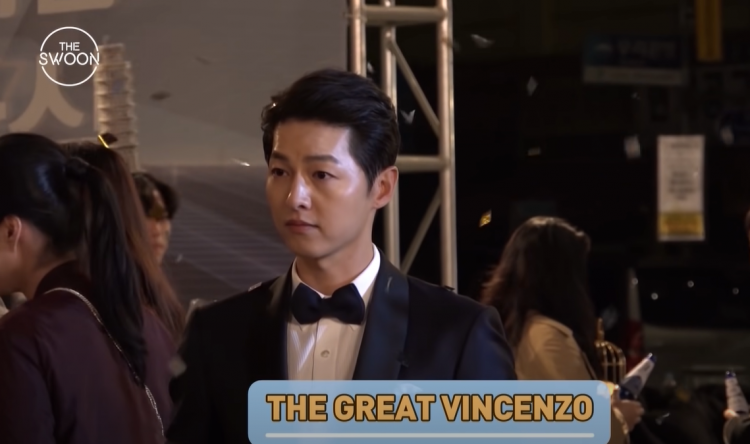 In a recent interview, Song Joong Ki goes in-depth with multiple topics relating to his career!
Song Joong Ki came back to the 26th Busan International Film Festival as the opening ceremony's MC with Park So Dam this year for his performance in "Space Sweepers."
The last time he attended the Busan International Film Festival was in 2012 for his film "A Werewolf Boy" directed by Jo Sung Hee.
After being absent from the festival for almost 10 years, Song Joong Ki expressed, "10 years ago, I saw 'A Werewolf Boy' at the very back seat in theaters with director Jo Sung Hee and Park Bo Young. I'm touched to think I'll watch while sitting with director Jo Hee Sung again this time."
Song Joong Ki revealed that he was satisfied after seeing "Space Sweepers." The actor looked back on how he attended the guest visit event at the exact same place almost more than 10 years ago. Song Joong Ki emotionally revealed, "It's my film, but I felt happy to see a fun film on the big screen for the first time in a while."
Song Joong Ki then noted how happy he was to be at the film festival, most especially after seeing all the popular directors and talented industry workers from the entertainment industry.
Furthermore, Song Joong Ki explained how happy he is to have Jin Sun Kyu alongside him, but he also shared that it is a shame that Yoo Hae Jin and Kim Tae Ri could not be with them at the festival.
The interviewer asked Song Joong Ki how he thinks of himself now compared to 10 years ago, and the actor answered, "There's not much. I just think I've aged a lot. I think I still lived diligently, and I feel as if I should live even more diligently."
Adding to this, Song Joong Ki said that the festival made him feel as if he should work hard on filming even more projects. The actor added, "My next project is a drama. After doing that project, I think I should quickly take on another good film."
Fans were really happy with the actor's comments on his reunion with Jeon Yeo Been, his "Vincenzo" co-star.
Song Joong Ki remarked, "I arrived first, and I looked because I heard actress Jeon Yeo Been being called, and many fans enjoyed it, saying 'Vincenzo is looking at Cha Young.' My chemistry with Jeon Yeo Been was great because we were together the most during the eight months while filming 'Vincenzo.'"
© 2023 Korea Portal, All rights reserved. Do not reproduce without permission.
Tags:
kwave
,
kwave news
,
kwave updates
,
Kdrama
,
kdrama news
,
kdrama updates
,
26th Busan International Film Festival
,
26th Busan International Film Festival news
,
26th Busan International Film Festival updates
,
Busan International Film Festival
,
Busan International Film Festival news
,
Busan International Film Festival updates
,
Song Joong Ki
,
Song Joong Ki news
,
song joong ki updates
,
Song Joong Ki interview
,
Song Joong Ki 26th Busan International Film Festival
,
26th Busan International Film Festival Song Joong Ki
,
Song Joong Ki Busan International Film Festival
,
Busan International Film Festival Song Joong Ki
,
park so dam
,
Space Sweepers