Song Joong Ki Shares His Journey Towards Being An Actor Was Filled With Uncertainties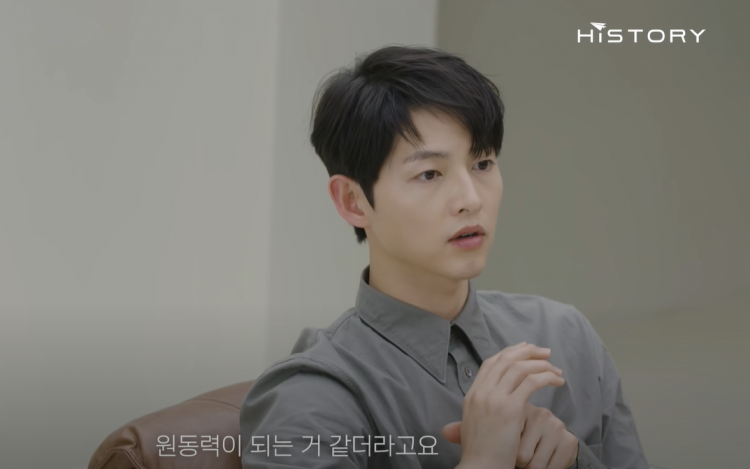 Who would have thought that one of the most popular South Korean actors today accidentally made his debut in the industry? Here's how Song Joong Ki became an actor, from Song Joong Ki, himself.
As of writing this article, one week ago on the 9th of July, South Korean superstar Song Joong Ki had HiSTORY, his personal management agency, post a video of Song Joong Ki on their official YouTube page.
Lasting a little over 10 mins, the video revolved around Song Joong Ki opening about himself and spilling the tea on his past. Among the things he shared, Song Joong Ki went on to reveal how he made his first stride in acting through his acting debut.
As per Song Joong Ki, when he was still in elementary school, he went on to beg his parents to send the actor to an acting after-school academy for no particular reason. Song Joon Ki shared, "For some reason, I just really wanted to go there."
Song Joong Ki continued that his first audition was for a cable television drama. He did not think would get the part, so he ended up auditioning for the role without feeling nervous at all.
Adding to this, Song Joong Ki revealed, "It was solely to just get experience. But I surprisingly got the part. I did not expect it at all. That is how I made my acting debut."
Following this, Song Joong Ki was asked what part of becoming an actor feels the best for him.
Instinctively, Song Joong Ki responded, "It is when the director and rest of the production team says, 'Okay! Good!' with all their hearts. I can not feel better about myself then."
Amusingly, Song Joong Ki furthered, "At those times, I feel so incredible. The air around me tastes sweet then."
Who would have thought that one of South Korea's most in-demand actors made his acting debut due to him believing he was not gonna be chosen. This shows what confidence can really do to a person's drive.
© 2023 Korea Portal, All rights reserved. Do not reproduce without permission.
Tags:
kwave
,
kwave news
,
kwave updates
,
Kdrama
,
kmovie
,
HiSTORY D&C
,
HiSTORY D&C news
,
HiSTORY D&C updates
,
HiSTORY D&C artists
,
HiSTORY D&C Song Joong Ki
,
historydnc
,
historydnc news
,
historydnc updates
,
historydnc artists
,
historydnc Song Joong Ki
,
Song Joong Ki
,
Song Joong Ki news
,
song joong ki updates
,
Song Joong Ki interview