NCT & ITZY Have Accidents On On-tact Gangnam Festival K-Pop Concert, Netizens Demand Better Precautions!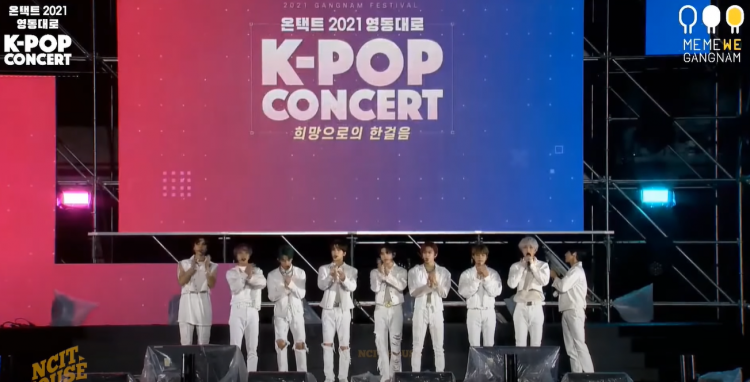 What if the accidents caused serious injuries? Netizens and fans are worried as the members of NCT 127 and ITZY have accidents during their performances at the On-tact 2021 Gangnam Festival K-Pop Concert.
Fans are now asking concert organizers to be more precautious of the safety of idols more specifically on outdoor performances.
Specifically, NCT 127 performed "Sticker" and their b-side entitled "Lemonade" alongside their 2020 hit "Kick It." It rained during the concert and though the stage crew tried to clean in between performances the rainwater on stage was still quite heavy.
NCT's Jaehyun slipped while performing "Kick It" on stage, falling to the ground on the same hand that was injured earlier this year, upsetting fans. Fans made "YOU DID WELL JAEHYUN" trend to commend Jaehyun's professionalism during his dance.
Adding to this, Doyoung also fell to the ground while dancing to the song "Lemonade," and NCTzens made "Doyoung" trend on Twitter in hopes of making the NCT member feel better.
Sadly, Jaehyun and Doyoung were not the only NCT 127 members to have a hard time due to the rain. NCT's Haechan also almost lost his footing while performing "Sticker" and Johnny also almost fell on the stage performing "Kick It."
ITZY's Lia also fell onto the stage while ITZY danced to "Swipe." She quickly recovered though and finished the performance flawlessly, but MIDZYs were still worried.
ITZY's Lia still powered through and she gained the respect of viewers due to her hard work and dedication in ITZY's performance!
Since live concerts will slowly begin being more constant, seeing the on-stage accidents that could possibly lead to injuries, fans are demanding that concert organizers will prioritize the safety of idols, being more cautious in the upcoming concerts.
Stay tuned for more news and updates regarding your favorite K-pop artists!
© 2023 Korea Portal, All rights reserved. Do not reproduce without permission.
Tags:
Onctact 2021 Gangnam Festival K-Pop Concert
,
Onctact 2021 Gangnam Festival K-Pop Concert news
,
Onctact 2021 Gangnam Festival K-Pop Concert updates
,
ITZY Onctact 2021 Gangnam Festival K-Pop Concert
,
Onctact 2021 Gangnam Festival K-Pop Concert ITZY
,
Onctact 2021 Gangnam Festival K-Pop Concert NCT 127
,
NCT 127 Onctact 2021 Gangnam Festival K-Pop Concert
,
kwave
,
kwave news
,
kwave updates
,
Kpop
,
kpop news
,
Kpop updates
,
ITZY
,
ITZY News
,
ITZY updates
,
ITZY Lia
,
ITZY Lia news
,
ITZY Lia updates
,
lia
,
Lia news
,
Lia updates
,
NCT
,
NCT news
,
NCT updates
,
NCT 127
,
NCT 127 News
,
NCT 127 updates
,
NCT 127 Jaehyun
,
NCT 127 Jaehyun news
,
NCT 127 Jaehyun updates
,
NCT 127 Doyoung
,
NCT 127 Doyoung news
,
NCT 127 Doyoung updates
,
NCT 127 Haechan
,
NCT 127 Haechan news
,
NCT 127 Haechan updates
,
NCT 127 Johnny
,
NCT 127 Johnny news
,
NCT 127 Johnny updates
,
Jaehyun
,
Jaehyun news
,
Jaehyun updates
,
Doyoung
,
Doyoung news
,
Doyoung updates
,
Haechan
,
Haechan news
,
Haechan updates
,
Johnny
,
Johnny news
,
Johnny updates
,
On-tact 2021 Gangnam Festival K-Pop Concert