Are Taeyeon & Key Good Seniors In SM Entertainment? aespa's Winter & Karina Spill The Tea!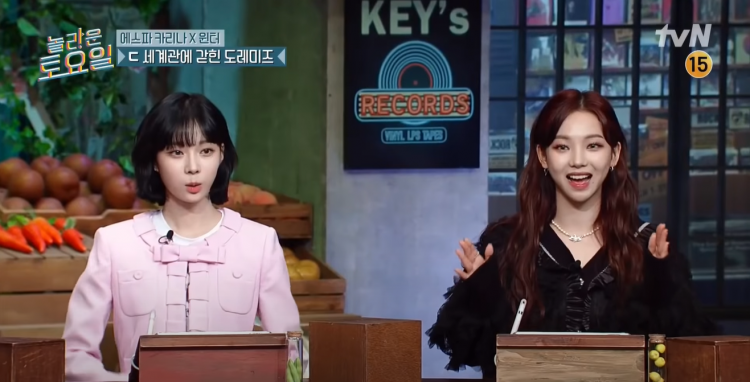 Girls' Generation's Taeyeon and SHINee's Key made their debuts under SM Entertainment in 2007 and 2008, respectively.
This means that Taeyeon and Key have been active in the entertainment industry for more than a decade. Thus, the two have seen and looked over rookie K-pop artists who have debuted under SM Entertainment.
But how are Girls' Generation's Taeyeon and SHINee's Key as seniors? Two members of SM Entertainment's rookie K-pop girl group, Karina and Winter of aespa, reveal the truth.
As of writing this article, yesterday on the 9th of October episode of tvN's popular show "Amazing Saturday," aespa's Karina and Winter were featured as guests.
Notably, aespa dropped their first album "Savage," making their highly-anticipated comeback. With that, aespa has gone on to achieve local and global notoriety in charts during the release of "Savage."
Furthermore, when aespa's Karina and Winter went on "Amazing Saturday," Karina noted her love for BOOKKU DDOONG, the pink alter ego of Moon Se Yoon's musical. Karina revealed, "I like cute things and he looked soft like a teddy bear. He looks much cuter in person."
But MYs (the fandom name of aespa) were drawn in as Winter expressed that she was very excited to meet SHINee's very own Key.
Even though Key and Winter are under the same label at SM Entertainment, Winter revealed, "He's like a legendary Pokemon. I've never been able to see him."
Adding to this, Girls' Generation's Taeyeon, another of aespa's seniors in SM Entertainment, noted, "I even waited in our agency building to get to see aespa."
aespa's Winter added, "When 'Next Level' first came out, Taeyeon said she would do the dance challenge with us and waited for us at the agency to record it."
SHINee's Key remarked, "But did Taeyeon really do it for aespa?"
Girls' Generation's Taeyeon hilariously replied, "Your tone makes you sound weird."
Embarrassed, Key quipped, "I wanted to do the challenge too."
© 2023 Korea Portal, All rights reserved. Do not reproduce without permission.
Tags:
TvN
,
tvN news
,
tvN updates
,
tvN show
,
tvN program
,
tvN shows
,
tvN programs
,
tvN Amazing Saturday
,
tvN Amazing Saturday news
,
tvN Amazing Saturday updates
,
Amazing Saturday
,
Amazing Saturday news
,
Amazing Saturday updates
,
Amazing Saturday aespa
,
aespa Amazing Saturday
,
Taeyeon Amazing Saturday
,
Amazing Saturday Taeyeon
,
Amazing Saturday Key
,
Key Amazing Saturday
,
SM
,
SM artists
,
SM Entertainment
,
SM Entertainment artists
,
SM Entertainment news
,
SM Entertainment updates
,
SM Entertainment aespa
,
SM Entertainment Taeyeon
,
SM Entertainment Key
,
SM Entertainment SNSD
,
SM Entertainment Girls Generation
,
SM Entertainment Girls Generation Taeyeon
,
SM Entertainment SNSD Taeyeon
,
SM Entertainment SHINee
,
SM Entertainment SHINee Key
,
aespa
,
aespa news
,
aespa updates
,
aespa Karina
,
aespa Karina news
,
aespa Karina updates
,
aespa Winter
,
aespa Winter news
,
aespa Winter updates
,
aespa Winter and Karina
,
aespa Karina and Winter
,
Karina and Winter
,
Winter and Karina
,
aespa seniors
,
Girls' Generation
,
Girl's Generation News
,
Girl's Generation Updates
,
girls generation taeyeon
,
Girls' Generation Taeyeon news
,
Girls' Generation Taeyeon updates
,
SNSD
,
SNSD news
,
SNSD updates
,
SNSD Taeyeon
,
SNSD Taeyeon news
,
SNSD Taeyeon updates
,
Taeyeon
,
Taeyeon news
,
Taeyeon updates
,
SHINee
,
SHINEe News
,
SHINEe Updates
,
SHINee Key
,
SHINee Key news
,
SHINee Key updates
,
Key
,
Key news
,
Key updates