Former IZ*ONE Members Jo Yuri & Jang Wonyoung Reunited On KBS' 'Music Bank'!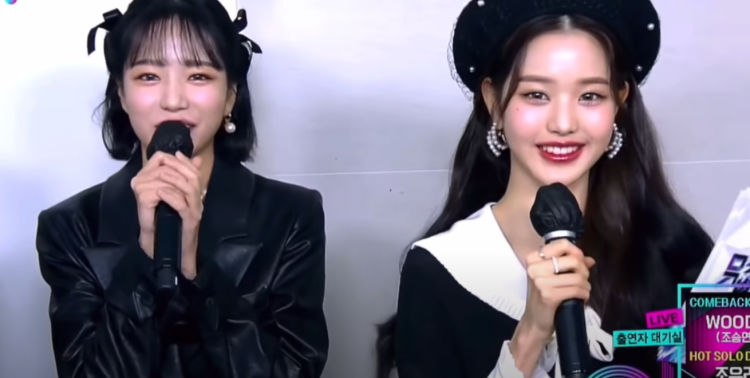 WIZ*ONE's, the fandom name of IZ*ONE, was recently given a treat as former members Jo Yuri and Jang Wonyoung had a reunion for the first time since IZ*ONE's disbandment.
Two former IZ*ONE members, Jo Yuri and Jang Wonyoung, finally had a reunion on KBS' "Music Bank" to the delight of fans. Notably, this is the first time the two reunited on broadcast since the previous disbandment of IZ*ONE to the delight of fans.
Notably, the former members of IZ*ONE have remained in close contact and have even occasionally made guest appearances on each other's individual schedules within the months, but this was special as it is the first time fans saw the duo reunited on camera.
Jang Wonyoung is now one-half of the new MC duo for KBS' "Music Bank" right beside ENHYPEN's very own Sunghoon.
Adding to this, Jo Yuri made her solo debut with "GLASSY." Coincidentally and to the amazement of most viewers, the October 8 episode of the music show was Wonyoung's first episode as MC and it was Yuri's first-ever promotional week.
Jang Wonyoung was the one in charge of Jo Yuri's backstage interview and in the interview, Jo Yuri could not contain her happiness in seeing Jang Wonyoung.
"Hello, it's Jo Yuri. I get to meet the fans today and to be able to see Wonyoungie too for the first time in a while, so I'm so excited. Congrats to Sunghoon-nim and Wonyoungie for becoming the MCs too," Jo Yuri noted.
Furthermore, Jo Yuri also showed and taught the new "Music Bank" MCs, ENHYPEN's Sunghoon and Jang Wonyoung, and WOODZ a little part of her choreography with "GLASSY."
Hopefully, a day will come where the former members of IZ*ONE will not just make an appearance together but have a joint performance!
© 2023 Korea Portal, All rights reserved. Do not reproduce without permission.
Tags:
kwave
,
kwave news
,
kwave updates
,
Kpop
,
kpop news
,
Kpop updates
,
KBS
,
KBS news
,
KBS updates
,
KBS shows
,
KBS programs
,
KBS music shows
,
KBS music programs
,
KBS Music Bank
,
Music Bank
,
music bank news
,
Music Bank updates
,
Jang Wonyoung Music Bank
,
Music Bank Jang Wonyoung
,
Wonyoung Music Bank
,
Music Bank Wonyoung
,
Jo Yuri Music Bank
,
Music Bank Jo Yuri
,
Jo Yuri and Jang Wonyoung
,
Jang Wonyoung and Jo Yuri
,
Yuri and Wonyoung
,
Wonyoung and Yuri
,
IZ*ONE
,
IZ*ONE news
,
IZ*ONE updates
,
IZ*ONE members
,
IZ*ONE Wonyoung
,
IZ*ONE Wonyoung news
,
IZ*ONE Wonyoung updates
,
IZ*ONE Jang Wonyoung
,
IZ*ONE Jang Wonyoung news
,
IZ*ONE Jang Wonyoung updates
,
Jang Wonyoung
,
Jang Wonyoung news
,
Jang Wonyoung updates
,
Wonyoung
,
Wonyoung news
,
Wonyoung updates
,
IZ*ONE Jo Yuri
,
IZ*ONE Jo Yuri news
,
IZ*ONE Jo Yuri updates
,
IZ*ONE Yuri
,
IZ*ONE Yuri news
,
IZ*ONE Yuri updates
,
Jo Yuri
,
Jo Yuri news
,
Jo Yuri updates
,
Jo Yuri Solo Debut
,
Jo Yuri debut
,
Jo Yuri Glassy
,
Yuri
,
Yuri solo
,
Yuri solo debut
,
Yuri debut
,
Yuri GLASSY
,
GLASSY