Netizens & Viewers Are Upset Towards 'Girls Planet 999' Due To Reverse Discrimination!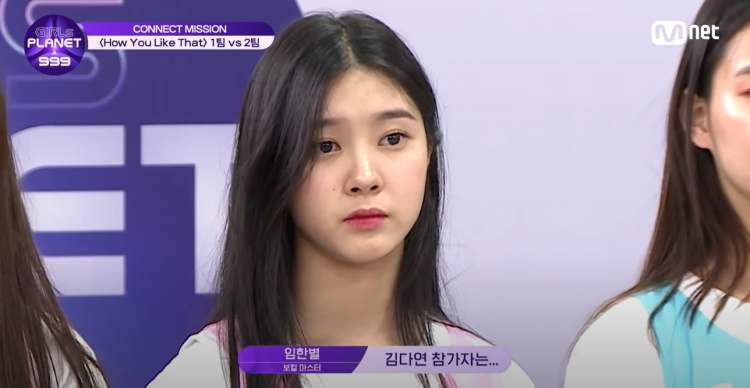 The third episode of "Girls Planet 999" was dropped on the 20th of August and Korean netizens noticed something that made them upset. One of the missions asked a Korean team to perform a cover of "How You Like That" by BLACKPINK.
Among the contestants, Kim Dayeon of Jellyfish Entertainment truly got the attention of the judges due to her amazing talent. Previously, Kim Dayeon ranked first place during the signal song competition. Thus, Dayeon got the center spot for the performance of the Korean group.
After their performance, Lim Han Byul (one of the vocal masters) commented that he understood why Dayeon ranked first place. But behind this compliment was another statement that got viewers upset due to them thinking that Dayeon got reverse discrimination.
"That's why we purposely didn't put contestant Kim Dayeon in the TOP9," Lim Han Byul noted.
Kim Han Byul then shared that the judges purposely did not add Kim Dayeon in the ranking among the TOP9. "It's because we get a feeling that you'll get in there [TOP9] at the end," Lim Han Byul added.
Viewers interpreted what Lim Han Byul said as even though Kim Dayeon deserved a spot in the TOP9, the judges ultimately decided not to as she was still going to enter the TOP9 eventually. Kim Dayeon began crying due to the vocal master's comment.
"I felt a huge burden after not ranking in the top 9 during the first round. However, after hearing his [vocal master] comment, I felt a little emotional," Kim Dayeon shared.
Adding to this is Sunmi who quickly gave praise to the Jellyfish Entertainment's trainee. "Honestly speaking, you probably have the most stable vocals and dancing abilities. You did a great job," Sunmi added.
But no matter how much praise they gave Kim Dayeon, viewers were still confused and upset as to why she was not added in the TOP9 even though she deserved it, as per the vocal master.
Not long ago, Mnet was embroiled in an issue due to them rigging the votes of the entire "Produce 101" after producers manipulated the votes. Viewers and fans are thinking if this could be another form of manipulation.
© 2023 Korea Portal, All rights reserved. Do not reproduce without permission.
Tags:
kwave
,
kwave news
,
kwave updates
,
Kpop
,
kpop news
,
Kpop updates
,
Mnet
,
Mnet survival show
,
Mnet show
,
mnet girls planet 999
,
Girls Planet 999
,
Girls Planet 999 news
,
Girls Planet 999 updates
,
Sunmi
,
Lim Han Byul
,
Jellyfish Entertainment
,
Jellyfish Entertainment Kim Dayeon
,
Kim Dayeon Jellyfish Entertainment
,
Kim Dayeon
,
Kim Dayeon news
,
Kim Dayeon updates