Chen Hsin Wei, A 'Girls Planet 999' Participant, Calls Yeo Jin Goo Ugly?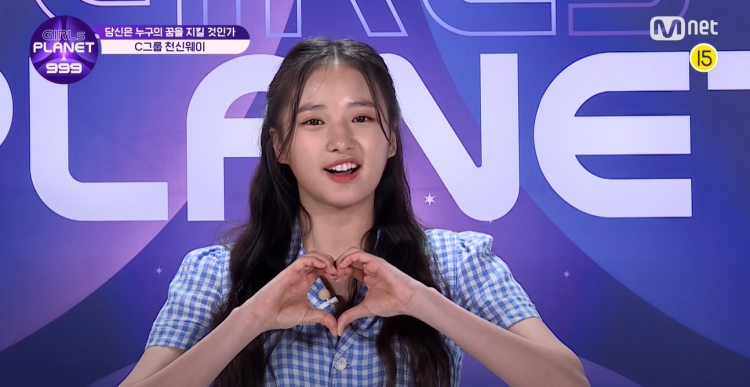 The first episode of Mnet's latest show, "Girls Planet 999," caught the attention of netizens not only because of its entertaining and fun premise but also because of an adorable and hilarious mistake a participant made.
On the premiering episode of Mnet's most recent survival show called "Girls Planet 999," a Chinese contestant went on to make not only the producers laugh but also the viewers at home due to her adorable mix-up in the Korean language.
During the time Korean actor Yeo Jin Goo went on stage as the show's MC, who is also noted as the "Planet Master," "Girls Planet 999" participant Chen Hsin Wei, who is also known as ViVi, immediately thought of the word, visual.
But it seems as though due to her being stunned by the actor's appearance, the Chinese contestant mixed her Korean up. Contestant Chen Hsin Wei went on to dub Yeo Jin Yoo as ugly, to the surprise and funny reaction of the staff and viewers.
"He is ug-ugly? He is an ugly man," Chen Hsin Wei hilariously noted.
When the staff began to laugh, only then did Chen Hsin Wei realize that she might have said something wrong. Saving herself, Chen Hsin Wei repeated what she said but this time in Chinese and it seems as though the participant was trying to say "He is a handsome man."
Notably, in the Korean language, the words 'ugly' and 'handsome' are only different from each other one syllable. 'Ugly' being pronounced mot-sang-gida and 'handsome' being jal-sang-gida. This is why Chen Hsin Wei mistakenly called the actor ugly.
Hilariously, when a staff member who spoke in Chinese told Chen Hsin Wei what she said, the trainee immediately panicked and apologized!
Chen Hsin Wei quickly expressed in an adorable way, "I'm so sorry, I'm sorry!"
© 2023 Korea Portal, All rights reserved. Do not reproduce without permission.
Tags:
kwave
,
kwave news
,
kwave updates
,
Mnet
,
mnet news
,
mnet updates
,
Mnet show
,
Mnet survival show
,
new mnet survival show
,
Mnet survival program
,
mnet girls planet 999
,
Mnet Girls Planet 999 news
,
Mnet Girls Planet 999 updates
,
Girls Planet 999
,
Girls Planet 999 news
,
Girls Planet 999 updates
,
Yeo Jin Goo
,
Yeo Jin Goo news
,
Yeo Jin Goo updates
,
Chen Hsin Wei
,
Chen Hsin Wei news
,
Chen Hsin Wei updates