SM Entertainment's aespa To Release Collaboration With An Upcoming Video Game!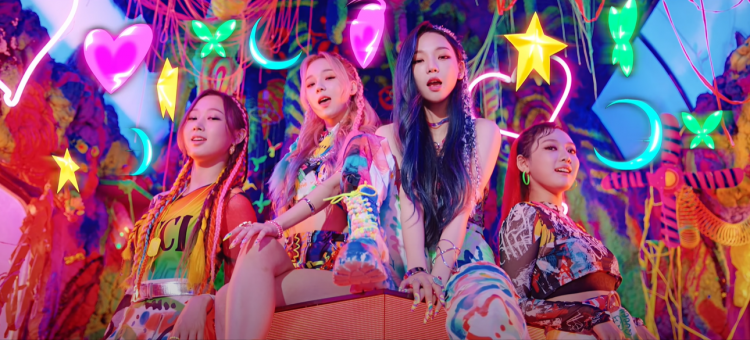 As of writing this article on the 14th of July, Kakao Games uploaded a Music Video teaser on their official YouTube channel. In the teaser, Kakao Games announced that they would be doing a collaboration with SM Entertainment's aespa.
The collaboration with aespa will happen via a Kakao Games video game and the collaboration will consist of SM Entertainment's aespa dropping a special performance that includes a music video collaboration.
No specific details have been released yet regarding SM Entertainment's aespa other than the 30-second music video teaser that was uploaded by Kakao Games.
SM Entertainment's aespa, who are making rounds all across the internet with their debut song "Black Mamba" and their most recent track "Next Level," are popular for their concept of using avatars (or virtual version) of each member. The avatars are dubbed as "ae."
In the upcoming special performance of SM Entertainment's aespa, a representative from Kakao Games noted, "We expect that the unique concept and strong image of aespa, which travels between the real and virtual worlds, will be able to connect with the users who enjoy 'Eternal Return.'"
As per Kakao Games, their game entitled "Eternal Return" will be an upcoming survival battle arena that was developed by Nimble Neuron and under the service of Kakao Games.
The free-to-play game, "Eternal Return," will be available for anyone who accesses their Kakao ID in Kakao Games' Daum Game starting on the 22nd of July, Korean Standard Time.
This is how popular SM Entertainment's aespa is. Being called upon to do a collaboration with a video game, which surpasses their brand of just being K-pop idols, and elevating it to being global artists.
Congratulations to SM Entertainment's aespa for garnering continuous fame and attention. Are you excited about SM Entertainment's aespa special performance with Kakao Games?
Stay tuned for updates!
© 2023 Korea Portal, All rights reserved. Do not reproduce without permission.
Tags:
Kakao
,
Kakao news
,
Kakao updates
,
Kakao aespa
,
aespa Kakao
,
Kakao Games
,
Kakao Games news
,
Kakao Games updates
,
aespa Kakao Games
,
Kakao Games aespa
,
Kakao Games Eternal Return
,
Eternal Return aespa
,
aespa Eternal Return
,
SM
,
SM artists
,
SM Entertainment
,
SM Entertainment artists
,
SM Entertainment news
,
SM Entertainment updates
,
SM Entertainment aespa
,
SM Entertainment aespa news
,
SM Entertainment aespa updates
,
aespa
,
aespa news
,
aespa updates