MOA & Stays In Awe After TXT's Yeonjun Shares How Close He Is With Stray Kids' Felix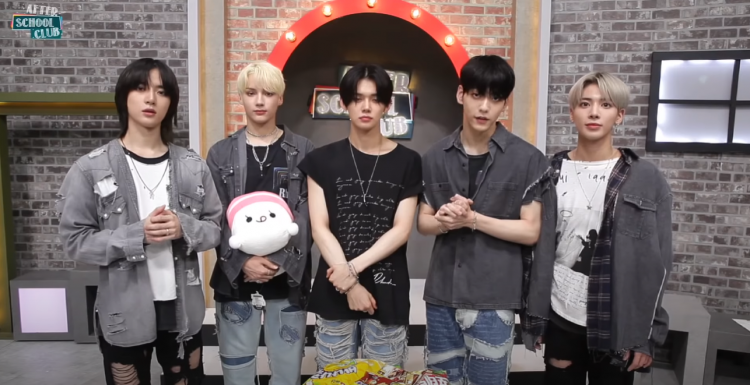 K-pop groups who belong to a single generation usually end up being close friends. Respectfully, K-pop groups of varying generations are also notably close but being friends with someone nearer your age is obviously something different.
This is the case for HYBE's (also known as Big Hit Entertainment) TXT as member Yeonjun opens up about how close he is with a member of JYP Entertainment's Stray Kids.
Yeonjun is close with the members of VICTON and ATEEZ, among other K-pop groups, but TXT's Yeonjun recently added another name to his circle of friends from other groups.
Almost known to all fans, Yeonjun has a good relationship with Changbin of Stray Kids but recently, the TXT member has shared that he is fairly close with Stray Kids' Felix as well.
In a recent show, TXT's Yeonjun went on to share how close he and Stray Kids' Felix really are.
In a segment of the popular show "After School Club," TXT went on to guess the K-pop idol in the given photos alongside their promotions for their songs in order to win yummy snacks for the group to eat.
When photos of Stray Kids' Felix popped up, TXT's Yeonjun immediately called out Felix's name. TXT's Yeonjun adorably called out "Oh, Yongbok-ie," which surely melted the hearts of fans due to Yeonjun adding the "-ie" to Felix's name.
TXT's Yeonjun even correctly guessed the song from which the photos were taken, but unfortunately, Yeonjun was just too excited and he did not put it in order properly.
Netizens and K-pop fans have not seen TXT's Yeonjun and Stray Kids' Felix hang out yet and they are surely wanting to see the two together after Yeonjun's adorable interaction.
MOA and STAYs (the fandom name of TXT and Stray Kids respectively), will surely enjoy seeing their favorite K-pop groups hang out together.
© 2023 Korea Portal, All rights reserved. Do not reproduce without permission.
Tags:
After School Club
,
After School Club news
,
After School Club updates
,
TXT After School Club
,
After School Club TXT
,
HYBE
,
HYBE artists
,
HYBE Labels
,
HYBE news
,
HYBE updates
,
JYP
,
JYP artists
,
JYP Entertainment
,
JYP Entertainment news
,
JYP Entertainment updates
,
HYBE TXT
,
HYBE Labels TXT
,
TXT news
,
TXT updates
,
txt yeonjun
,
txt yeonjun news
,
txt yeonjun updates
,
Yeonjun
,
Yeonjun news
,
Yeonjun updates
,
JYP Entertainment stray kids
,
JYP Entertainment Stray Kids news
,
JYP Entertainment Stray Kids updates
,
stray kids
,
Stray Kids News
,
Stray Kids Updates
,
stray kids felix
,
Stray Kids Felix news
,
Stray Kids Felix updates
,
Felix and Yeonjun
,
Yeonjun and Felix