Haebin, Former Main Vocalist Of Gugudan, Still In The Music Industry As A Vocal Trainer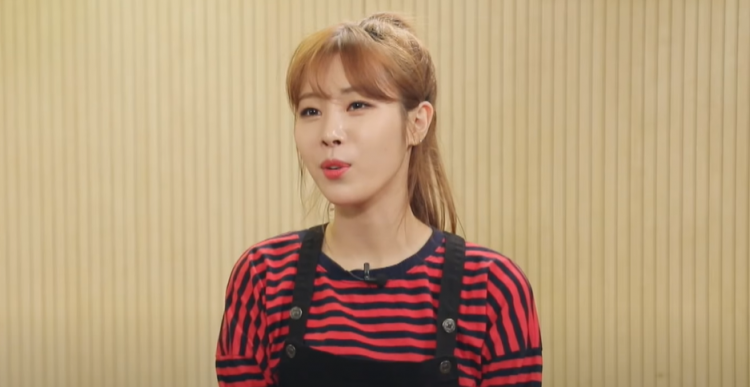 Gugudan, a previously popular and underrated South Korean K-pop group, consisted of 8 beautiful female members.
The eight members were Hana, Mimi, Haebin, Nayoung, Sejeong, Sally, Soyee and Mina. Gugudan made their debut on the 28th of June 2016, under the entertainment agency, Jellyfish Entertainment.
Previously, it was confirmed and reported that the female K-pop group Gugudan went on to disband just last year in December. After this unfortunate news, the members of Gugudan then went on to take different directions in their careers.
Former member Sejeong went on to continue being active in the South Korean music industry. Other members such as Mina, Mimi, and Hana transitioned into the film industry.
Moreover, Sally made her way back to China and continued her career there. Nayoung and Soyee have not released any statements on what they are currently doing and Hyeyeon went on to leave Gugudan earlier in 2018 to continue her studies.
On the 17th of May, the last member of Gugudan with updates on what they were doing now was Gugudan's Haebin.
An official announcement from I'm From Vocal Academy confirmed that they have recruited former main vocalist of Gugudan, Haebin to be their new vocal trainer. This is unsurprising as her vocals are elite due to the fact that she was a former main vocalist.
Haebin will now be in charge of vocal lessons. She will be specializing in preparing trainees for vocal auditions. Thus, anybody will be able to hire her as a trainer under I'm From Vocal Academy.
The fandom name of Gugudan, Dan-jjakns (meaning Dear Friend), and Haebin's personal fans are happy to hear an update from the former K-pop idol and wish her success in her new career path.
Congratulations to former K-pop star and Gugudan member, Haebin!
© 2023 Korea Portal, All rights reserved. Do not reproduce without permission.
Tags:
kwave
,
kwave news
,
kwave updates
,
Kpop
,
kpop news
,
Kpop updates
,
Jellyfish Entertainment
,
Jellyfish Entertainment news
,
Jellyfish Entertainment updates
,
Jellyfish Entertainment gugudan
,
Jellyfish Entertainment Gugudan news
,
Jellyfish Entertainment Gugudan updates
,
Gugudan
,
Gugudan News
,
Gugudan Updates
,
Gugudan Haebin
,
Gugudan Haebin news
,
Gugudan Haebin updates
,
Haebin
,
Haebin news
,
Haebin updates
,
Haebin solo career
,
Haebin career
,
Haebin vocal trainer
,
vocal trainer
,
I'm From Vocal Academy
,
I'm From Vocal Academy news
,
I'm From Vocal Academy updates