Red Velvet's Yeri Wears A Particular Outfit Prompting Hot Responses From Reveluvs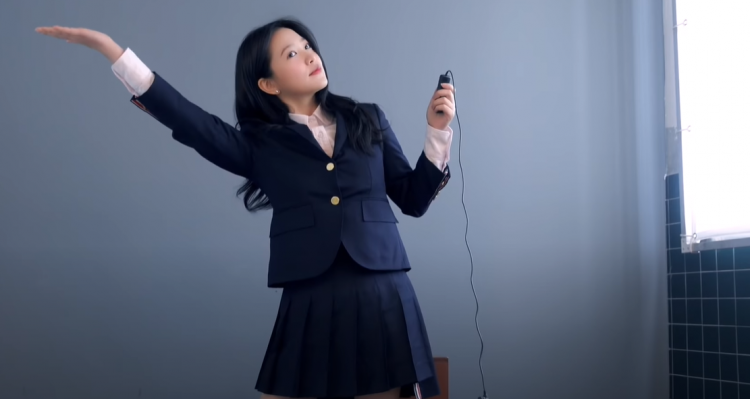 Previously in the 2nd week of May, Red Velvet's maknae made headlines as she was gearing up to begin filming her latest web drama, "Blue Birthday." Yeri's web drama is slated to be released in summer.
Recently, Red Velvet's Yeri garnered a lot of attention once again but not because of her upcoming drama. But because of a particular outfit she wore in a recent Instagram post.
As of writing this article, Red Velvet's Yeri uploaded a new post on her Instagram account just a day prior. This was initially taken as normal news as most K-pop idols regularly update their social media.
But Red Velvet's Yeri went on to shock her fans and Reveluvs due to what she was sporting.
Red Velvet's maknae was seen flexing and slaying with her new Olympia bag from Burberry. The Red Velvet member looked effeminate and beautiful, as always. But with her bag, Yeri decided to wear a black dress that had an odd design at the back of her legs.
Striking multiple poses with her bag, Red Velvet's Yeri was wearing a skirt that seemed to have a rip in the back, to the surprise of her personal fans and Reveluvs.
As with most shocking K-pop outfits, Red Velvet's Yeri's recent Instagram uploads garnered a bigger than usual attention from fans.
Naturally, fans and netizens went on to leave comments regarding the Red Velvet member's ensemble:
"What is that clothes...I was surprised at a moment"
"I think your legs are longer compared to your height"
"You're wearing strange clothes"
"It's the clothes you'll listen to 100 times"
"What's the hole in the back?"
"What's the clothes design?"
No matter what Red Velvet's Yeri wears, she will always look stunning and gorgeous. Besides, there is no such thing as bad publicity, right?
© 2023 Korea Portal, All rights reserved. Do not reproduce without permission.
Tags:
Kpop
,
kpop news
,
Kpop updates
,
kpo instagram
,
instagram
,
Instagram kpop
,
kwave
,
kwave news
,
kwave updates
,
SM
,
SM artists
,
SM Entertainment
,
SMTOWN
,
SM Entertainment news
,
SM Entertainment update
,
SM Entertainment Red Velvet
,
Red Velvet
,
Red Velvet News
,
Red Velvet Updates
,
Red Velvet instagram
,
Red Velvet Yeri
,
Red Velvet Yeri instagram
,
Red Velvet Yeri news
,
Red Velvet Yeri udpates
,
Yeri
,
Yeri news
,
Yeri updates
,
Yeri instagram