Soloist Supremacy: SUNMI & CHUNG HA Become Subjects For Recent Gucci Photoshoot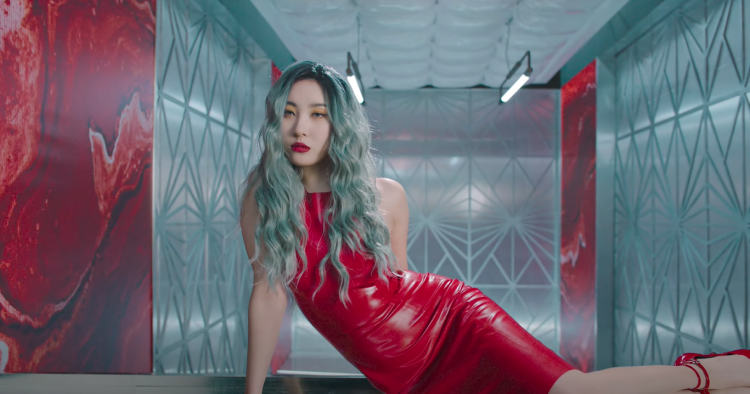 Marie Claire is a French-British international monthly magazine that features women from all corners of the globe. Recently, the magazine featured two of the most prominent and popular female K-pop soloists: Kim Chung Ha and SUNMI.
As of writing this article, previously on the 19th of April Korean Standard Time, the Italian luxury brand, Gucci, revealed the K-pop idols they collaborated with for their editorial for "Marie Claire Korea's" May 2021 issue.
The issue will be featuring the female K-pop solo artists, Chung Ha and SUNMI.
The two K-pop idols revealed their chemistry, regardless of being separate generations, while modeling clothing mostly from Gucci's line of "Ouverture Of Something That Never Ended."
Aside from this, the girls also modeled other items such as the handbag line of Gucci Beloved's Horsebit 1955 alongside Dionysus bags as well.
They also rocked Gucci's Rhyton sneakers.
Aside from the photoshoot, Chung Ha and Sunmi also had an interview. In the interview, they opened up their lives pertaining to them as solo female K-pop artists.
Additionally, the interview also included their thoughts on being able to team up with one another; essentially a familiar person in the K-pop industry.
SUNMI went on to share that the feeling of working with another person is always different depending on who it is.
For the former Wonder Girls member, on days similar to the day of the photoshoot, when one is really adjusted to the situation, comfortable, and shooting with someone that one enjoys, one gains so much more strength than when one is shooting alone.
For Chung Ha, she expounded that they contacted each other often, but they're both busy, so it's rare that they were able to meet up. Due to this, Chung Ha considered times like this valuable. For her, she felt good energy because she was with Sunmi.
Congratulations to Chung Ha and Sunmi for being successfully featured in "Marie Claire Korea's" May 2021 issue!
© 2023 Korea Portal, All rights reserved. Do not reproduce without permission.
Tags:
Gucci
,
Marie Claire
,
Marie Claire Korea
,
kwave
,
kwave news
,
kwave updates
,
Kpop
,
kpop news
,
Kpop updates
,
Sunmi
,
SUNMI news
,
SUNMI updates
,
Chungha
,
Chungha news
,
Chungha updates
,
Marie Claire Korea May Issue
,
Chung Ha Marie Claire
,
SUNMI Marie Claire
,
Marie Claire Chung Ha
,
Marie Claire SUNMI
,
Marie Claire Korea Chung Ha SUNMI
,
Marie Claire Chung Ha SUNMI
,
Chungha and SUNMI
,
Chung Ha and Sunmi