Chungha Opens Up: Shares Hardship With COVID And How I.O.I Aided Her, And More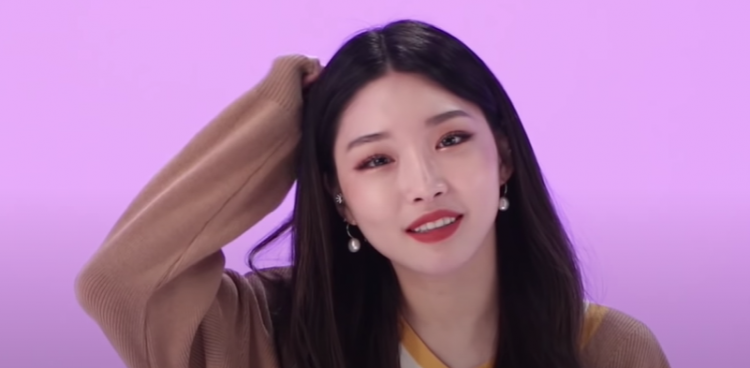 "My new year's resolution is to not have a new year's resolution. There were times that I didn't work. I don't want to get too caught up in work. I want to enjoy the small joys by meeting up with people and resting," Chungha said, sharing her final thoughts during her interview with tvN.
Last Tuesday, February 23, former I.O.I member and current soloist, Chungha went as a guest on tvN's show "On and Off."
In the show, the immensely popular K-pop idol, Chungha went to talk about her time hanging out with friends. One time she invited previous fellow I.O.I members, being: DIA's Chaeyeon and Mina formerly of gugudan. They went on to Chungha's home to hangout and talk.
As they feasted on Korean spicy rice cakes and other sweet treats, the three former I.O.I members began a challenge with one another. They proceeded to ask each other on their longest phone call with each other.
During her time, Chungha asked Mina if or not she and Chaeyeon spent more than five hours on the phone, Mina responded by saying that that is nothing compared to them since they have spent at least all night talking over the phone once. This interaction was filmed prior as this scene was playing as Chungha and the hosts of the show were in the studio.
Cutting back to the show, when Uhm Jung Hwa, one of the most influential women in the Korean entertainment industry, asked whether or not she was down that I.O.I disbanded, Chungha said that she does not feel that they disbanded. She'd rather think that they are just taking a break.
The closeness of the members was further shown when Chungha said that the two members contacted her every day when she still had COVID-19. For that, Chungha shared how grateful she is for their support.
As she went through COVID, Chungha expressed that it was also a mental battle, beyond physical. Nevertheless, she is taking everything one day at a time and she is happy that she has recovered and was able to release her album, "QUERENCIA."
© 2023 Korea Portal, All rights reserved. Do not reproduce without permission.
Tags:
Kpop
,
kpop news
,
Kpop updates
,
mnh entertainment
,
88rising
,
swing entertainment
,
studio blu
,
Querencia
,
Chungha Querencia
,
Chungha
,
Chungha updates
,
Kim Chungha
,
Chungha news
,
COVID-19
,
IOI
,
will ioi make a comeback
,
is IOI disbanded
,
DIA
,
Gugudan
,
gugudan Mina
,
DIA Chaeyeon
,
Mina
,
Chaeyon
,
is chungha better now
,
how is chungha