Yena, Main Dancer Of APRIL, Drops Statement Denying Accusations Of Bullying Hyunjoo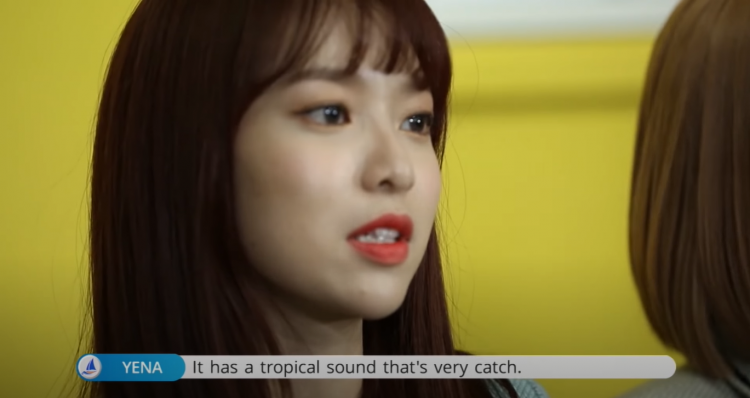 Hyunjoo left APRIL back in October of 2016 but only now have reports surfaced on the main reason why she left: she was being bullied.
A while ago, the younger brother of Hyunjoo released a statement regarding how his sister suffered in APRIL. Hyunjoo was physically, verbally, and mentally bullied by her bandmates, as per reports.
Hyunjoo previously confirmed this by posting on Instagram revealing the complete version of her side.
To defend herself, Yena, a member of APRIL, also took to the social media website and posted her side. This is what Yena had to say to the Hyunjoo Bullying accusations:
"Hi, this is Yena of APRIL.

First, I apologize for the people who got concerned from this controversy.

I wanted to cleanly prove the true facts of the case in court, but I can no longer just stand by and watch the huge amount of false accusations so I am writing this in detail now.

Although we all began at different starting points, we all worked hard without resting to get to this point while chasing the same singular goal. That one goal was our incredibly precious group, APRIL.

Up until now, we have all experienced things that we did not need to experience and each of us has gotten exhausted along the way. There were many times when I was so tired that I wanted to give up on it all, but we all gritted our teeth and endured for the past seven years.

Because we were young, we wanted to complain and throw tantrums, but all of us quietly worked hard in our own positions without letting it show on the surface. We were all young and it was a time when we were each overwhelmed just trying to take care of ourselves.

Because we're a group, if someone falls behind, we reach out and offer them a hand so we can go together. This, to us, is natural and something that we absolutely believe in.

That's why each of us worked hard and did our best in our own way. No matter how hard things got, we were polite, we gave each other turns, we left a letter to inform the other members when we were sick, we celebrated each other's birthdays... we did everything that people think bandmates do for one another, countless times.

However, I always felt that one member was constantly pushing us away. When something happened to all of us, she thought of herself as the only victim, and even in a situation that arose by coincidence, she acted like we were perpetrators.

As she did not have faith in the other members, we gradually began to recognize that our many efforts were meaningless.

We were always burdened with the anxiety and fear of not knowing how situations would suddenly change or escalate [because of her].

If [people are suggesting that] even in that kind of situation, it is also the responsibility of members who are the same age or even younger to take care of a member who is mentally and physically weaker, then I think that is even crueler.

It is not because our members were always physically healthy or mentally strong that we were able to make it all the way here without any problems. Because we are also human, there is not a single one of us who did not suffer physically and mentally.

No one who did not experience those difficult times together with us would be able to know the kind of suffering we went through.

Yet how are people able to easily speak as if they know us better than ourselves, as if they were there and experienced those situations together with us? Ever since that day [that the allegations were made], we have been silently suffering and enduring on our own, just like we did back then [when Hyunjoo was in the group], without even knowing how time passed by. How much more do we have to suffer? How much longer do we have to endure these kinds of incidents?

Now, it has truly become a wound that can never heal.

It truly breaks my heart that, due to something that is not true, seven years can become meaningless in just one moment like this.

I am scared of this reality in which I have suddenly become someone who I am not, and things we did not do have suddenly become things we did.

Once again, I want to definitively let you know that there was never any bullying, ostracism, violent behavior, or violent words, and that the only truth is that everyone was suffering at that time.

I hope that our members and our fans will no longer be hurt and wounded by these distortions of the truth and things that are too painful to even say out loud.

Because I do not want our family, acquaintances, and fans who have trusted in us and have spoken out on our behalf to suffer any more wounds, from now on, I plan to endure all the way until the end and make sure that the truth is clearly and fully revealed."
Previously, another member of APRIL, Chaewon, responded to the Hyunjoo Bullying allegations as well by taking to her personal Instagram, denying all the rumors, and even having proof of the bullying not existing.
Additionally, DSP Media, the company that handles APRIL and Hyunjoo, also dropped a statement denying all the allegations.
UPDATE:
To read about an ex-employee of DSP Media calling out Hyunjoo for the 'false' bullying accusations, click here.
© 2023 Korea Portal, All rights reserved. Do not reproduce without permission.
Tags:
kwave
,
kwave news
,
kwave updates
,
Kpop
,
kpop news
,
Kpop updates
,
DSP Media
,
DSP
,
DSP artists
,
DSP Media news
,
DSP Media updates
,
DSP Media April
,
APRIL
,
April news
,
April updates
,
APRIL Yena
,
April Hyunjoo
,
Yena
,
hyunjoo
,
Yena news
,
Yena updates
,
Hyunjoo news
,
Hyunjoo updates
,
Lee Hyunjoo bullied
,
Lee Hyunjoo bullied issue
,
Lee Hyunjoo bullied scandal
,
lee hyunjoo
,
Yena bullying
,
Yena bullying accusations