EXO's Xiumin To Hold Fan Meet Ahead Of Military Enlistment; How To Get Tickets & More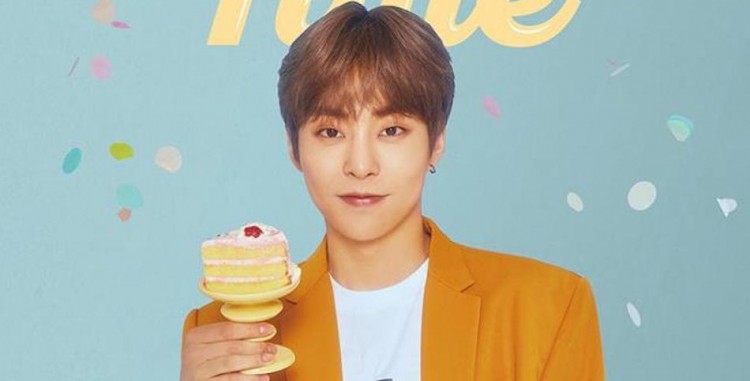 As promised, EXO member Xiumin will hold a fan meeting before he starts with his military enlistment. SM Entertainment has announced that the singer-actor will be meeting his fans on May 4.
Xiumin is set to begin his military service on May 7. SM did not release the enlistment location and time of the K-pop idol. The label added they will not hold any special event for Xiumin on the day. Instead, the singer will meet his fans before his enlistment for active duty.
In a letter for his fans that he shared last week, Xiumin confirmed that he will be enlisting on May 7. The EXO member thanked his fans for their support and vowed to return from the military in good health.
Xiumin (real name Kim Min Seok) also promised to his fans that he will do a fan meeting so he could see EXO-Ls before his enlistment. Xiumin is the eldest member of EXO and the first to get enlisted.
"I will return in good health. I plan on arranging a time for us in the near future so that I can say these words to you directly. We have a CBX concert [in Japan] soon, and we will return after completing it successfully, so please wait just a bit," the 29-year-old idol said in his letter.
The fan meeting, titled Xiuweet Time, will be held at the Jamsil Indoor Arena in Seoul. Tickets for the fan meet will be available on the site Yes24. Ticket bookings will start on April 17 for fan club membership holders and then to the general public.
Xiumin's last concert before enlistment is the EXO-CBX's MAGICAL CIRCUS-Special Edition. The group, which composes of Chen, Baekhyun, and Xiumin, will be in Saitama on April 16 and 17. They will wrap the concert series with a three-night performance in Kobe, Japan on April 27 through 29.
EXO celebrated their seventh anniversary on April 8. Xiumin made his debut as a member of the K-pop group on the same day. In January 2015, Xiumin made his musical theatre debut in the SM Entertainment musical School OZ.
He released his first solo song, "You Are the One," as a soundtrack for web drama Falling for Challenge in 2015. The following year, Xiumin made his big screen debut in the South Korean film Seondal: The Man Who Sells The River. In 2017, Xiumin became one of the regular cast members on the MBC reality TV show It's Dangerous Beyond The Blankets.
Meanwhile, EXO has received a nomination for Top Social Artist at the 2019 Billboard Music Awards. SM Entertainment has yet to issue a statement whether or not the groups will attend the event. The 2019 BMAs will air live on NBC at 8:00 p.m. ET.
#엑소 #시우민 의 단독 팬미팅 'Xiuweet Time'이 개최됩니다! 시우민의 첫 단독 팬미팅이자 다채로운 매력으로 여러분과 만날 특별한 시간 많이 기대해 주세요~

19.05.04 6PM KST 잠실실내체육관
팬클럽 선예매:19.04.17 3PM KST YES24
일반 예매:19.04.17 5PM KST YES24#XIUMIN #XiuweetTime pic.twitter.com/AnCokkW6cg — EXO (@weareoneEXO) April 15, 2019
© 2023 Korea Portal, All rights reserved. Do not reproduce without permission.