'Outlander' Actress Sophie Skelton Hints Tough Time For Brianna & Roger In Season 5 + Reveals Her Preparations For Giving Birth Scene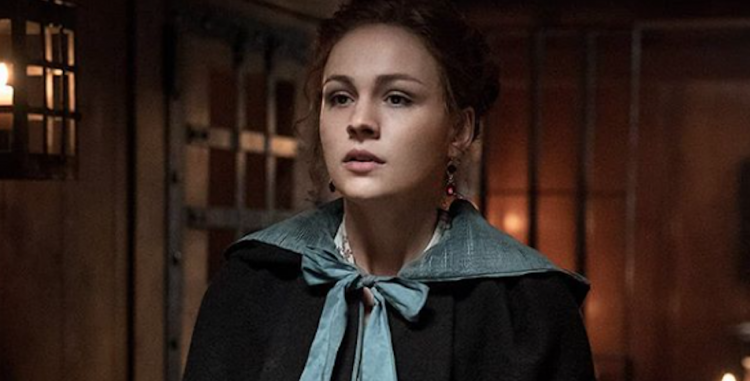 Brianna and Roger's relationship may have a tough time in Outlander Season 5. Sophie Skelton has teased what fans should expect from the couple next season and also shared some details on how she prepared for her giving birth scene in the Season 4 finale.
Outlander Season 4 is a huge one for Skelton, who plays the role of Jamie (Sam Heughan) and Claire's (Caitriona Balfe) daughter, Brianna. In this season, Brianna traveled to the 18th century without telling Roger (Richard Rankin). The latter followed her but their happy reunion was short-lived.
After they parted ways, Bree was sexually assaulted by this season's villain, Stephen Bonne (Edward Speleers). Jamie and Claire find out that Brianna is pregnant and that she was violated.
In his effort to reconcile with Brianna, Roger looks for her in Fraser Ridge. But Jamie beat Roger, thinking he is the man who violated his daughter. Young Ian (John Bell) sold Roger to the Mohawks who tortured him before he was finally rescued by the Frasers. Jamie and Claire revealed everything to Roger, who was torn if he still wants to go back to Brianna knowing she is possibly carrying someone else's baby.
In the end, his love for her outweigh everything else and vowed to raise Bree's baby like his own. Skelton hinted that although Brianna and Roger had a happy reunion in Outlander Season 4 finale, they might still have some rough patches to smooth over in the fifth installment, given everything that happened to them.
"I have a feeling there will be some difficulties... They could put everything that happened aside, or it could complicate things and make things harder. Hopefully, they'll be OK," Skelton told TVLine.
The actress also shared the things she did to make sure that she depicts her character giving birth perfectly. She admitted that she spent a lot of time googling "birthing chair" and "birth sounds."
In the interview, Skelton explained that she wanted to see what kind of sounds women make when they are giving birth. She said in some films, it looks like mothers-to-be seem like screaming but in reality, they are making a low animalistic sound.
The actress recalled that the time she spent researching online paid off on the day they finally shoot the scene. Skelton said the series director and assistant director first told her that she is doing it wrong. However, when they check how it is done, they agreed that Skelton perfectly shows the pain of a woman giving birth.
Skelton confessed that though it was a hard scene to film, she still enjoy doing it. As proof that she did a great job, even the TV series crew asked her is if she had undergone the process in real life, which Skelton said she hasn't.
Skelton will reprise her character in Outlander Season 5. It is confirmed to have 12 episodes and will be based on Diana Gabaldon's fifth book, The Fiery Cross.
© 2023 Korea Portal, All rights reserved. Do not reproduce without permission.