'Outlander' Season 4 Episode 12 Spoilers: Brianna Visits Stephen Bonnet In Prison; Roger Come Up With A Plan To Escape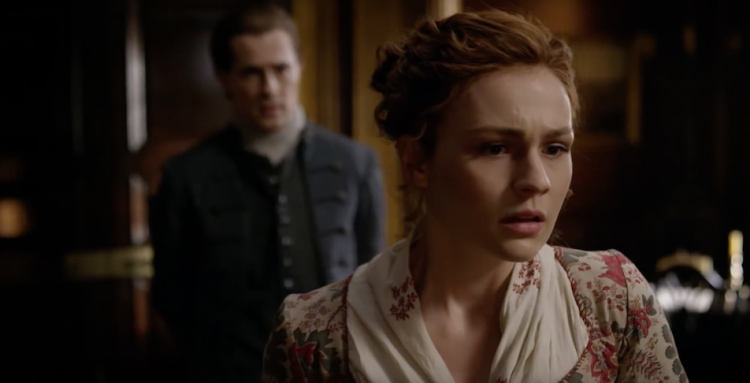 Brianna will be facing her nightmare once again in the upcoming Outlander Season 4 Episode 12. In miles away from her, Roger is planning to escape the Mohawk Village and he will use someone to do it.
Outlander has two more episodes before the season ends and the series is making sure that the last two will be huge. All major characters will be seen in the upcoming episode and tense stories are about to unfold.
Brianna will visit Stephen Bonnet (Edward Speleers) in prison. In the previous episode, Murtagh (Duncan Lacroix) was able to knock down Bonnet. However, when he and Fergus (César Domboy) are about to sneak the pirate out of Wilmington, the authorities stopped them.
The sneak peek for Episode 10 shows Brianna (Sophie Skelton) is talking to Lord John Grey (David Berry) and the shock on her face suggest that her fiance brings news about the man who violated her.
Lord John could be asking Bree if she wants to see and talk to Bonnet who could also be the father of her unborn child. A scene in the teaser shows Brianna walking in the prison. Another scene features Brianna showing to Lord John a letter from her father in which Jamie (Sam Heughan) talked about revenge and murder.
In the previous episode, Jamie vowed to kill the man who raped Brianna. However, it looks like he changes his mind based on the letter he sent to Bree.
It is also possible that Bonnet will stay alive when Season 4 wrap up. Those who have read the Outlander novels have known the fate of Bonnet in Drums of Autumn. Whether the TV adaptation will have the same story for Bonnet until the end of Season 4 is still remain to be seen.
But Speelers somewhat gave a hint that his character will be alive when Season 4 ends. He earlier said in an interview that he would love to come back in Outlander for another season.
Elsewhere, Roger (Richard Rankin) is about to form a friendship with a fellow captive at the Mohawk village. It looks like the two will help each other to escape from the Mohawks.
Meanwhile, Jamie, Claire (Caitriona Balfe), and Young Ian (John Bell) is still tracking the Mohawks so they can rescue Roger. The Frasers have high hopes that Roger is still alive after they found the remains of Roger's fellow captive in the woods.
As for Fergus and Marsali (Lauren Lyle), the two will embark on a dangerous mission. It could be about Murtagh. Jamie's godfather was captured in the last episode along with Bonnet. Murtagh is currently a wanted man in Wilmington for being the leader of the insurgents. Outlander Season 4 Episode 12 airs on January 20 at 8/7c on Starz.
© 2023 Korea Portal, All rights reserved. Do not reproduce without permission.