'Outlander' Actor Duncan Lacroix Opens Up About Murtagh-Jocasta Love Scene & The Future Of The Couple's Romance In Season 5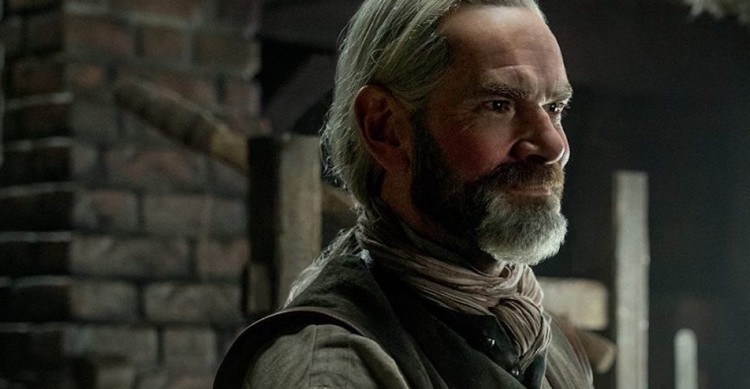 If Outlander fans were surprised of the Murtagh and Aunt Jocasta's love scene in Season 4 finale, so as actor Duncan Lacroix. The English actor, who played the role of Murtagh, revealed that he did not know that there will be an intimate moment between his character and Aunt Jocasta until about three weeks before they film the finale episode.
Lacroix, however, said the love scene makes sense since there is already undeniable chemistry between the two characters when they saw each other again in Season 4 Episode 10. It can be recalled that in the episode, Murtagh travels with Brianna (Sophie Skelton) and her handmaid Lizzie to River Run. He introduced Bree to Aunt Jocasta (Maria Doyle Kennedy) and Murtagh was seen holding the hands of Jamie's (Sam Heughan) aunt while sharing some old stories when they were young in Scotland.
In the Outlander Season 4 finale, Murtagh returned to River Run to support Bree during the delivery of her baby while her parents are still searching for Roger. Jocasta, later on, learned about Murtagh's involvement with the Regulators.
The two have an argument and Jocasta tosses a glassful of whiskey in his face. They spent the night together. In the morning, Murtagh lies naked in Jocasta's bed and entices her to come back to bed.
Lacroix praised Kennedy for portraying her character really well and making their love scene effortless despite playing a blind character. When asked about whether or not the Murtagh-Jocasta love affair will continue next season, Lacroix said it may not flourish. He admitted that he hasn't read the scripts for Season 5 but he said Murtagh's relationship with Jocasta might only create more problems for both characters.
"There's no build-up to this relationship, really. Because obviously, it's going to throw up lots and lots of problems. For one, Jocasta's a slave owner, and Murtagh's just come back. He spent 12 years there as [a] servant, so. There are also moral dynamics it's going to throw up," he told TVLine.
Nonetheless, Lacroix is excited to find out how Murtagh's relationship with Jocasta and Jamie will play out in the new season. As Outlander fans already know by now, Jamie will be facing a difficult task in Season 5 as he was tasked by Governor Tyron to assemble a militia that will put down the Regulators. His first mission is to hunt down and kill the leader of the Regulators, Murtagh Fitzgibbons.
Aside from being his godfather, Jamie knows that he needs to protect Murtagh because of her aunt. When a platoon of Redcoats arrived at River Run to deliver to Jamie the message from Governor Tyron, Claire's husband notices that concern on her aunt's face for Murtagh when she tells him to hide in the slave quarters.
© 2019 Korea Portal, All rights reserved. Do not reproduce without permission.