'Outlander' Season 4 Episode 7 Spoilers: Villain Stephen Bonnet Returns; Rogers Follows Brianna In The 18th Century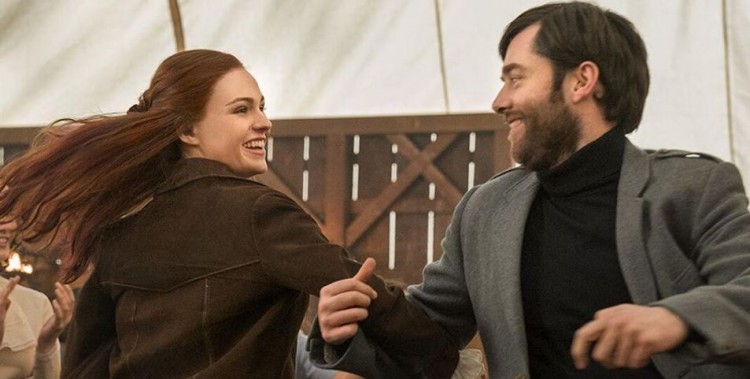 Brianna was expected to be featured in the previous episode of Outlander Season 4 after she traveled back in time through the stone at the end of Episode 5. However, even a glimpse of her was not seen in Episode 6. The previous episode was solely focused on Jamie and Claire and their unexpected visitors, Lord John Grey and William.
Brianna's (Sophie Skelton) reunion with her mother, Claire (Caitriona Balfe), and her first meeting with her father, Jamie (Sam Heughan), is happening very soon. But while it hasn't happened yet, the Fraser patriarch had a chance to spent some time with his son, William (Oliver Finnegan). Lord John Grey (David Berry) brought William to Fraser's Ridge.
Jamie and William had a chance to spend time with each other as John comes down with the measles. Jamie forces William to go on a hunting trip with him so he could avoid the infection. Jamie is loving every minute he is with his son.
Although the two got into trouble with the Cherokee, they managed to dodge what could be a painful punishment from the Cherokee, thanks to William's bravery. At the end of the "Blood of my Blood" episode, William turns back to look at Jamie, the man he knew as the one who took care of him when he was a child. Willie's gestures gave Jamie an assurance that they will see each other again.
While William is away, Brianna is coming to see her parents. The teaser for the upcoming episode focuses on Bree and Roger (Richard Rankin). She successfully made it to the 18th century Scotland but it seems like she will having a hard time making it to North Carolina to find her parents.
The sneak peek for Episode 7, titled "Down the Rabbit Hole," also revealed that Brianna knows about the fire that will eventually cause her parents' death. She can be heard telling someone about the fire at the Fraser Ridge and she intends to prevent it by warning Jamie and Claire about it.
Meanwhile, Roger will follow Brianna into the past but he himself will also embark on a traumatic sea journey where he will meet Stephen Bonnet (Edward Speleers). The notorious character is the captain of the ship that Roger will work on to make his way to the Colonies. The promo gives a hint on how dreadful it will be on a ship that is under Bonnet's command.
So far the pirate has already shown how cruel he can be. In the early episode of Season 4, he robbed Jamie and Claire of their gems including the latter's wedding band from her second husband. Bonnet also killed the couple's friend, Lesley.
Fans of Outlander novel series have already know that Bonnet and Bree will eventually meet as well. However, their first meeting will not end well for Jamie and Claire's daughter. Outlander Season 4 Episode 7 airs on December 16 at 8 p.m. ET/PT on Starz.
© 2023 Korea Portal, All rights reserved. Do not reproduce without permission.