'Outlander' Season 4 Spoilers: Epic Scenes From 'Drums of Autumn' Book That Fans Should Watch Out For In TV Series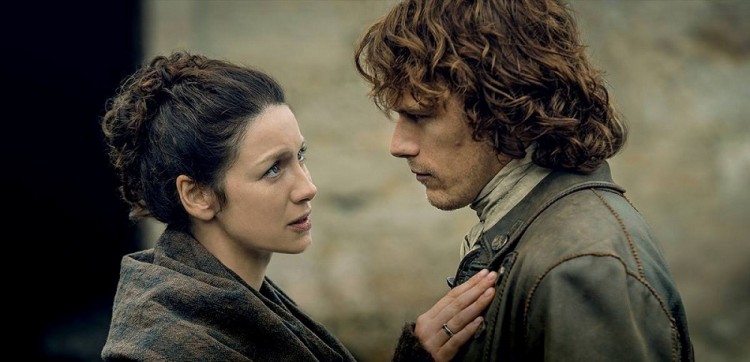 For many Outlander fans, the long wait for Season 4 is as cruel as what Jamie Fraser had suffered in prison in the previous installments. Starz has yet to release a teaser for the upcoming Outlander Season 4 which makes the long wait more unbearable.
Some Outlander fans may have known by now what will happen to Claire (Caitriona Balfe) and Jamie (Sam Heughan) in Season 4. But it is important to note that all scenes in Diana Gabaldon's fourth novel will not play out in the TV adaption. So what epic scenes from Drums of Autumn that will definitely appear in Season 4? Here are some important moments in the book that you should expect when Outlander returns in November.
Viewers are already aware that Claire and Jamie have finally reunited in the previous season after 20 years of separation. The couple will try to start a new life in America after they were washed off the shores of the American colonies in the finale of Season 3. But the epic reunion in Outlander will not end there.
Claire will be reunited with her daughter, Brianna (Sophie Skelton), and it will also be the first time that Jamie will meet his child. It will be a touching reunion for the Fraser family.
Gabaldon earlier teased a snippet of the first meeting between Jamie and Bree wherein the latter is having a hard time figuring out whether or not she should call Jamie as her "Daddy." The father and daughter may also have some disagreements as both of them are stubborn.
Viewers should also watch out for how Brianna will arrive in the 18th century. Executive producer/showrunner Ronald D. Moore has already revealed that unlike her mother, Bree will not go through the stones.
She also has a different reason for finding her parents in a different era. Claire will also express her concern about Brianna's safety when she arrived in the 18th century.
"The path that she takes to make that journey is very different than the path that Claire took. They're on very different tracks. She goes for a different purpose, and in a different way than Claire did, and once she arrives there, she has a different set of problems than what Claire dealt with," Moore said.
Fans may also see more of Frank Randall (Tobias Menzies) in Season 4. Although Frank is already dead, there were flashbacks in the previous season featuring the character. However, Moore refused to confirm whether or not Frank will appear in the upcoming installment via flashback.
Another much-awaited book scene that will be adapted to the small screen is the scary fight between Jamie and a bear. Moore assured that they are bringing in the epic scene that will eventually give Jamie the moniker of "Bear killer."
However, the narrative will not be the same as the book. Moore teased that they have a specific approach on how to present the scene, and they are looking forward to fans reactions.
Moreover, Outlander Season 4 will also introduce another character who, according to Moore, viewers might fall in love with. The showrunner said Rollo, Young Ian's half-wolf canine, is supposed to be a scary dog, but he turned out to be a sweet and charming creature.
Outlander Season 4 is scheduled to premiere in November. Starz has yet to reveal an exact release date for the time-travel-themed drama.
© 2019 Korea Portal, All rights reserved. Do not reproduce without permission.