'Outlander' Season 4 Update: Caitriona Balfe Impresses Fans With Her Perfect Jamie Fraser's Impersonation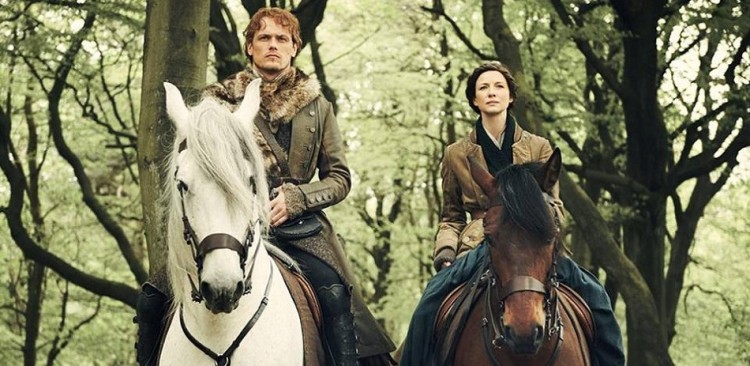 Outlander stars Caitriona Balfe and Sam Heughan are clearly very comfortable with each other and familiar with one's traits. Balfe recently did an impersonation of Hueghan's Outlander character, Jamie Fraser, and fans are impressed of her on point imitation of her co-star.
Outlander has shared some behind the scene clip of the series lead stars. In the clip, Balfe and Heughan spare some time during the filming of the series' Season 4 to read some of their fans' tweet. One of their followers expressed her love for Jamie for how he tells Claire the way things work in 1700s Scotland but moments later, he pleads to her to teach him how to do things because he wants to be a better man.
"One of my favorite things about Outlander is how Jamie's always like "This is just HOW THINGS ARE DONE in 18th century Scotland, Claire!" but then five seconds later he's like "I'M SORRY I WANT TO BE A BETTER MAN, PLZ TEACH ME CLAIRE, I WANT TO LEEEEAAAARN," the fan tweeted.
Hueghan reads the tweet but urges Balfe to read out the dialogue lines. The actress happily obliges and reads the lines using Jamie's voice and Scottish accent. Balfe's impersonation of the lead male character is spot on and it garnered positive comments from fans. Balfe also retweeted the clip and added a message that poked fun of her co-star.
"What ya'll don't know is that when Sam is off sick, I regularly don the wig, do the voice and be Jamie !!! (Same applies for him with Claire!!) right @SamHeughan !?!," Balfe wrote to which Hueghan replied.
"I LOVE wearing the corset!!!" the actor wrote in his exchange of tweets with Balfe.
In the upcoming Outlander Season 4, Claire and Jamie will settle down in the American colony. The couple will find an ally with Jamie's aunt, Jocasta Cameron (Maria Doyle Kennedy). However, as they plant roots in the new world, Claire and Jamie will also meet another adversary, Stephen Bonnet (Ed Speelers).
Heughan earlier described the Irish pirate and smuggler as worst than Black Jack Randall (Tobias Menzies), who sexually assaulted Jamie in Season 1. Outlander executive producer Matt B. Roberts also don't have kind words about Stephen Bonnet. He described the character as "a pure psychopath."
Outlander Season 4, however, is not entirely dark and gloomy for the Fraser couple. In this installment, Claire will be united with her daughter Brianna (Sophie Skelton). This is a much-awaited moment as it is also the first time Brianna will meet her biological father, Jamie. Outlander Season 4 is set to premiere on November 4 on Starz.
We are LIVING for @caitrionambalfe's impersonation of @samheughan as Jamie! #Outlander pic.twitter.com/VULLAhYYp4 — Outlander (@Outlander_STARZ) October 14, 2018
© 2019 Korea Portal, All rights reserved. Do not reproduce without permission.