'Outlander' Season 4 Episode 6 Spoilers: Jamie & Claire Get Surprise Visitors at Fraser's Ridge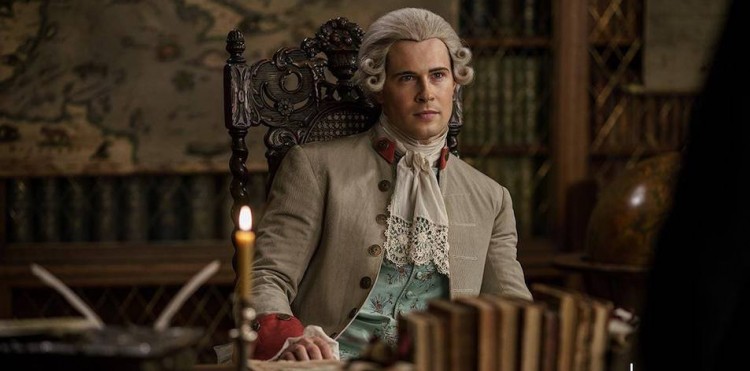 Jamie Fraser will not only meeting his daughter Brianna in Outlander Season 4 but also his son, William. In the upcoming episode of time-travel drama, Jamie will see his son and his friend Lord John Grey once again.
In the upcoming Sunday's episode of Outlander, titled "Blood of My Blood," Jamie (Sam Heughan) and Claire (Caitriona Balfe) will be surprised when Lord John Grey (David Berry) will pay them a visit. But what will stun the couple more is that John Grey brought a travel companion whom Jamie is very familiar with: his son William.
In the teaser for Episode 6, the English soldier warns Jamie and Claire that William doesn't know how the three of them met. It can be recalled that the three first met in Season 2 when then 16-year-old John Grey tried to kill Jamie. The Scottish Highlander spares his life. His debt was later repaid by his older brother, the Earl of Melton, who spares Jamie from execution after the Battle of Culloden.
Jamie and John Grey met again when the latter became the governor of the Scottish prison, Ardsmuir. They had a complicated friendship when John Grey fell in love with the ginger-haired Highlander.
William is Jamie's son with Geneva Dunsany, whom Claire's husband had a one-night stand with in Season 3. John and his wife, Isobel Dunsany, become the child's parents when Geneva died after giving birth to William.
In the upcoming Episode 6, John Grey caught the measles epidemic that also killed Gerhard Mueller's wife and newborn baby in the previous episode. The official synopsis of the episode suggests that Claire will set her personal feelings about John Grey and will treat him as a patient. Claire could still be harboring some hatred, or even jealousy, to John knowing that the latter is in love with her husband.
Meanwhile, Jamie takes William on a hunting trip to protect him from contracting measles. While spending time together, William catches a fish but the Native Americans living in the area took offense of what he did. It seems like Jamie's father-and-son bonding time with William will be cut short as the latter might get punished for his action.
Moreover, Outlander fans may also finally see Brianna (Sophie Skelton) in the same timeline with her parents. In the previous episode, she was seen making her way through the stones at Craigh na Dun in Inverness. Outlander Season 4 Episode 6 airs on December 9 at 8 p.m. ET on Starz.
© 2020 Korea Portal, All rights reserved. Do not reproduce without permission.