BTS & BLACKPINK Make It On The New York Times' List Of '65 Best Songs Of 2018'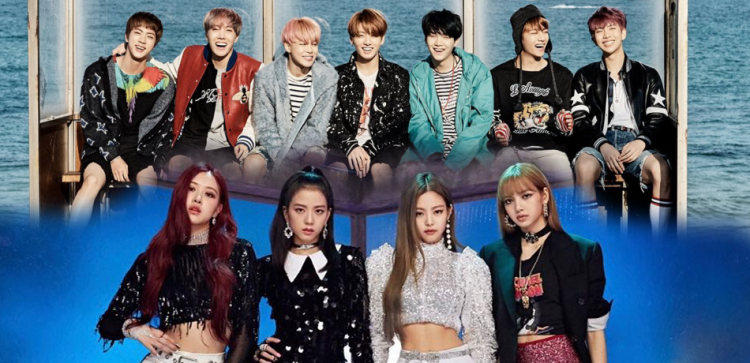 The New York Times releases a year-end list best movies, TV shows, songs, albums, and more each year. For 65 Best Songs of 2018, only two Korean pop groups have made it to the prestigious list: BTS and BLACKPINK.
In the publication's music critic Jon Caramanica's 65 Best Songs List of 2018, BTS's "Fake Love" and "Singularity" was ranked No. 20. BLACKPINK's"DDU-DU DDU-DU" grabbed the 31st spot.
"Fake Love" is the lead track of the Bangtan Boys' album Love Yourself: Tear while "Singularity" is the solo track of member V which is also the intro of the same album. Tear, which was released in May, debut at No. 1 on the Billboard 200 album chart. It is the highest spot a K-pop act has ever achieve. "Fake Love" debuted at No. 10 on the US Billboard Hot 100, which is also the highest-charting song by a K-pop group in the US.
"DDU-DU DDU-DU," on the other hand, is the lead song in BLACKPINK's first mini album Square Up. The EP was dropped in June, and it peaked at No. 40 on the Billboard 200 chart. "DDU-DU DDU-DU" peaked at No. 55 on the Billboard Hot 100, the highest-charting feat for female K-pop act.
Meanwhile, both BTS and BLACKPINK's songs also landed spots on YouTube's top 10 most popular music videos in South Korea for this year. BLACKPINK's "DDU-DU DDU-DU" MV secured the second spot following the MV of IKON's "Love Scenario" at the No. 1.
"BBoom BBoom" MV by Momoland is at the third spot while TWICE's "What Is Love?" is at No. 4. BTS's "Fake Love" music video is at the fifth spot and "IDOL" MV at No. 9. TWICE and BTS are the only artists to score two entries on the list. TWICE's other song, "Dance the Night Away," is at the seventh place.
YouTube also released the list of most popular videos this year in Korea excluding the official MVs. The dance practice video of MOMOLAND for their hit song "BBoom BBoom" takes No. 1. It is the only K-pop-related video on the list.
At second place is Yang Ye Won's testimonial video about sexual harassment. The video of a young South Korean boy who made North Korean leader Kim Jong Un smile with his performance during the inter-Korean summit in April made it at No. 3.
© 2023 Korea Portal, All rights reserved. Do not reproduce without permission.