Suga Confirms BTS Collaboration With Ed Sheeran; Bangtan Boys' ARMY Freak Out On Yoongi's Tweet To 'Perfect' Singer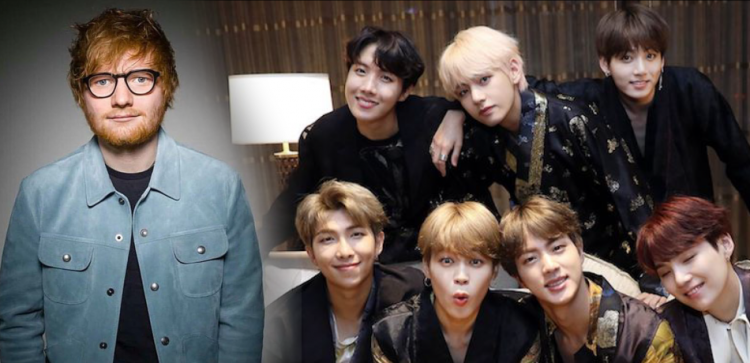 BTS's Suga has just gave the band's fans all over the world with an early Christmas gift. The Korean pop idol has confirmed the upcoming collaboration with English singer Ed Sheeran and the team up could be happening really soon.
Just after Twitter named BTS as the most tweeted-about user and the most tweeted-about artists this year, Suga delivered another news via the social media platform. He teased the collaboration with Sheeran with a photo of a music composition sample. The BTS member titled the sample track as "ED SHEERAN ST ROUGH."
"Hmm... this is for you," Suga wrote on Twitter and also tagged the "Perfect" singer.
BTS's ARMY immediately took on social media to share their excitement about the upcoming team up. Many posted memes and GIFs of BTS members in shock or pretending to faint because of the Suga's tweet.
Many hilariously blame Kim Yoongi, also known as Suga on stage, for messing their morning routine or being late in the office because of the news. Others are asking for more details about the collaboration.
"I just woke up... and wuut?? What is happening?? I almost fall down my bed," one fan wrote.
For members of the ARMY in the U.S. and Europe, Suga's tweet came on Wednesday night or late afternoon. Many international fans had a hard time going to sleep as they anticipate a tweet exchange between Suga and Sheeran.
"Me: [About to go to sleep]
Notification: BTS Posted something
Me: I wonder what they posted
Post: 'hmm...this is for you @edsheeran #suga'
Me: .....F*** sleep. I'm waiting for his reply
Other Me: *WHATTTTTT THE F***. HIS UP SO EARLY. MY HARDWORKING YOONGI," another fan wrote.
Sheeran earlier confirmed that a collaboration with today's biggest K-pop act has been on the works. The "Perfect" singer has revealed that he already wrote a song for BTS.
"I actually wrote a song that I think they might be messing with. I heard this the other day. But yeah, I don't know. I really like BTS, though. I think they're great," he said during an interview with Heat.
Many are already expecting that a collab between BTS and Sheeran will be a huge hit. Both the Korean boy band and Sheeran are among the best-selling live acts in the international market this year. The "Thinking Out Loud" hitmaker topped the international list while the "IDOL" singers are at second place. It is also worthy to note that this is not the first collaboration of BTS with international artists. They have done tracks with Steve Aoki, Nicki Minaj, The Chainsmokers, and more in the past.
Meanwhile, K-pop septet is set to have a two-night concert at the Taoyuan International Baseball Stadium in Taiwan on December 8-9. After which, Jin, Suga, J-Hope, RM, Jimin, V, and Jungkook will head to Japan for the MAMA Fans' Choice in Japan on December 10.
© 2023 Korea Portal, All rights reserved. Do not reproduce without permission.