BTS Member V Could Be Changing Hair Color Again At 2018 Mnet Asian Music Awards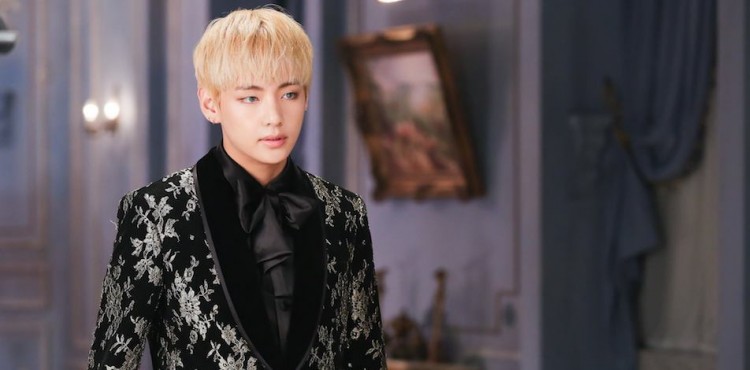 BTS member V has stood out not only among K-pop idols but also from his bandmates in the past three music awards in South Korea. Whether his outfit or hair color, his overall visual always catches the eyes of viewers. In the upcoming 2018 Mnet Asian Music Awards, he expected to do the same once again.
Undeniably, V has been the gustiest of all the BTS members when it comes to hair color and style. He nailed the black mullet during the Love Yourself: Tear promotions and also tied up his hair in a ponytail in a Love Yourself: Answer concept photo.
In the upcoming 2018 MAMA, all eyes will be on V as he is expected to change his hair hue once again based on the trend that he has created in the past few weeks. It can be noticed that V, also known as Kim Taehyung or Tae to his fans, changes hair color in every awards ceremony in the past few weeks and he is definitely attracting attention.
When BTS attended the MBC Plus Genie Music Awards on November 6, Taehyung's hair color was light brown. Although it was J-Hope who stood out in the red carpet, V caught the attention of viewers during the septet's performance of IDOL because of his shining red velvet blazer.
Then BTS attended the 2018 Asian Artist Awards on November 28 in which V had a blonde hair. He caught the eye of many in the red carpet with his hair, more so when he dressed up in a red leather jacket while Jin, Suga, J-Hope, RM, Jimin, and Jungkook wore tailored outfits in black.
Most recently, photos of Taehyung at the 2018 Melon Music Awards went viral after he stepped out in the red carpet with his blazing red hair. Fans last saw V in red hair during the promotions of their 2016 album The Most Beautiful Moment In Life: Young Forever.
Furthermore, he also stood out against her bandmates at the 2018 MMA red carpet because of his outfit. All of BTS members wore a blazer or coat paired with sneakers except for V. Taehyung was clad in a V-neck Gucci long sleeves shirt and a brown leather shoes.
In the upcoming 2018 MAMA, V is expected to surprise fans with a new hair color. BTS has been confirmed to attend MAMA Fans' Choice in Japan on December 10 and the final ceremony of the three-day event on December 14 in Hong Kong.
Since V had brought back the red hair tint from the "Save Me" era, he might also bring back his other prominent hair colors. Among the hair shades that Tae had sported in the past are blonde, orange, purple, pink, and brown with green highlights. He could also bring back his two-toned "IDOL" hair hue.
The K-pop idol may also opt to keep his red locks for the two events of MAMA since many members of the ARMY loved it. Regardless of what hair tone or outfit V would try next, he will definitely drive fans crazy because of his stunning visual on and off the stage.
© 2023 Korea Portal, All rights reserved. Do not reproduce without permission.