BTS To Collab With Nicki Minaj? Their Social Media Posts Hint It's Not Impossible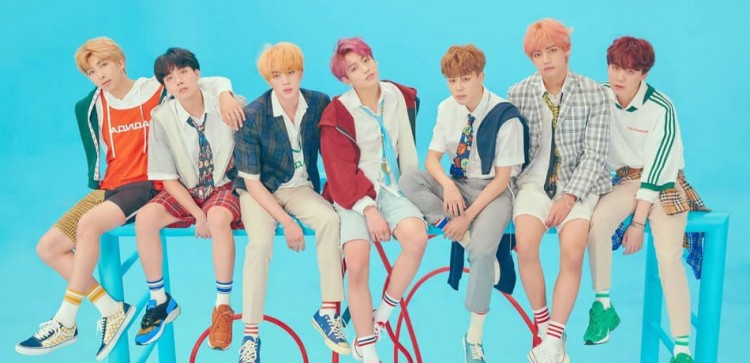 BTS may already be known worldwide and have fans all over the planet, but they never fail to remind everyone that they're just ordinary human beings who love music. With that said, the boys would always share the songs and albums that they enjoy listening to on social media, and the recent one is from Nicki Minaj.
BTS took to Twitter to share that they love Nicki Minaj' album. ARMY's started to follow the boys' footsteps and gave the American rapper some love as well by streaming her new album, adding the hashtag "#BTSQueenStreamingParty."
Since Jin, Suga, J-Hope, RM, Jimin, V, and Jungkook have millions of followers, the hashtag quickly trended worldwide and even reached #1 in the trending list. After learning that she got free promotion from one of the biggest K-pop bands in the world, Nicki Minaj thanked BTS on Twitter: "Love you guys. Thank you."
Now that both BTS and Nicki Minaj shared their love for each other, many are wondering what's next for the artists. Will they be interested in making music together in the future? For now, it remains as speculation.
This is certainly not the first time that BTS was rumored to collaborate with a foreign artist. The possibility of a BTS and Zedd collaboration all started when the 28-year-old Russian-German record producer, DJ, multi-instrumentalist, and songwriter tweeted the South Korean boy band back in November 2017 that they should work together, saying, "hi guys. I hear u wanna collaborate with me. Let's do it." A few hours later, BTS replied to the tweet and said, "let's do it !!"
Leader RM then confirmed that the BTS and Zedd collaboration is happening. Before heading inside the MGM Grand Garden Arena in Las Vegas for the 2018 Billboard Music Awards, some reporters caught up with Jin, Suga, J-Hope, RM, Jimin, V, and Jungkook to ask them a couple of questions.
BTS was then asked if they're going to have upcoming collaborations with overseas artists. One particular question that got fans excited is when the boys were asked if the BTS and Zedd collaboration will be happening. RM confirmed the speculations but noted that they cannot reveal some details as of yet.
© 2023 Korea Portal, All rights reserved. Do not reproduce without permission.
Tags:
BTS
,
Jin
,
Suga
,
J-Hope
,
RM
,
Jimin
,
V
,
Jungkook
,
Billboard Music Awards
,
2018 Billboard Music Awards
,
Kpop
,
K-pop
,
Zedd
,
Nicki Minaj