BTS 2018: Jin, Suga, J-Hope, RM, Jimin, V, & Jungkook Couldn't Wait To Leave The BBMAs To Do This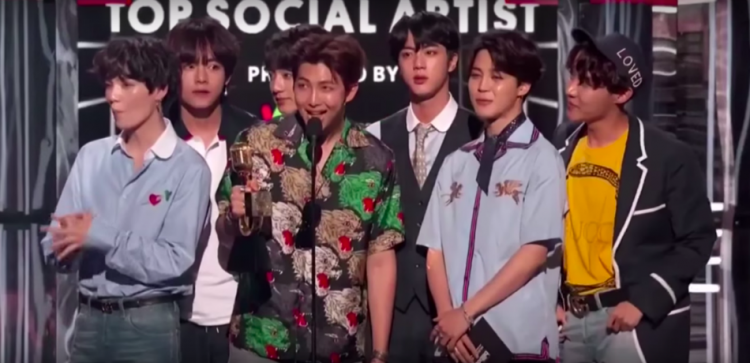 BTS is no longer a Billboard Music Awards newbie! The Big Hit entertainment boy group had fun walking on the red carpet, doing some interviews, hanging out with Hollywood celebrities, performing "Fake Love" on stage, and winning the Top Social Artist Award. But despite having a successful night, Jin, Suga, J-Hope, RM, Jimin, V, and Jungkook couldn't wait to leave the annual event to do one thing.
Being invited to a prestigious event like the 2018 Billboard Music Awards is definitely one of the highlights of BTS's career. Being invited to the BBMAs for two years in a row and winning the same award twice seemingly mean that the boys have reached their Hollywood stardom.
Although all of their success is a result of their dedication and hard work, Jin (Kim Seok-jin), Suga (Min Yoon-gi), J-Hope (Jung Ho-seok), RM (Kim Nam-joon), Jimin (Park Ji-min), V (Kim Tae-hyung), and Jungkook (Jeon Jung-kook) believe that everything is impossible without the help of their fans. RM's 2018 BBMAs acceptance speech revealed how much their fans mean to them.
"This time, we had a chance to think about what social really means to us," BTS leader RM said. "Our fans told us that our music really changed their lives, and we realized that our words truly carry weight. Thanks to you guys."
So when the 2018 Billboard Music Awards concluded, the BTS singers immediately celebrated their win and their successful 2018 Billboard Music Awards performance with their fans. Jin, Suga, J-Hope, RM, Jimin, V, and Jungkook went live so their supporters would be present during their after-party.
The boys popped champagne and cheered while making sure that the fans will be virtually a part of it. The BTS members were understandably exhausted after their explosive 2018 Billboard Music Awards performance of "Fake Love," but they used the strength that they had left to celebrate the moment with the ARMYs.
Meanwhile, it was previously reported that BTS might already have a manager in the U.S. So, is the South Korean boy group ready to take over Hollywood? While this scoop could be possible, it has yet to be verified.
© 2023 Korea Portal, All rights reserved. Do not reproduce without permission.
Tags:
BTS
,
Jin
,
Suga
,
J-Hope
,
RM
,
Jimin
,
V
,
Jungkook
,
Billboard Music Awards
,
2018 Billboard Music Awards
,
Kpop
,
K-pop
,
BTS Fake Love