BTS, EXO, Red Velvet Members & More To Collaborate For New 'One K Global Campaign 2019' Song To Celebrate North And South's End Of War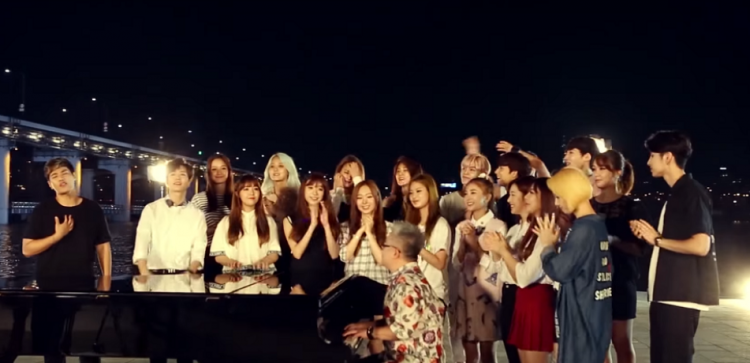 Some Korean pop artists are prepping for a new unification song to commemorate the historic end of the war between North and South Korea. The One K Global Campaign committee has confirmed that a brand new unity song is already in the works. Among the K-pop idols who will participate in the special track is BTS member Jungkook, EXO's Baekhyun, GOT7's Youngjae, and Red Velvet's Wendy.
So far, about 20 K-pop idols are confirmed to join the recording. Most of the artists were also seen in the 2015 One Dream One Korea song. The upcoming song, which will be composed by campaign director and musician Kim Hyung Suk, is set to be released in August 2018.
The One K Global Campaign aims to further encourage unity in the Korean peninsula and to garner support from the people of both sides. Additionally, a "One K Music Festival" and a unification documentary film are also in the works.
While waiting for the new One K unification song, the "One Dream One Korea" campaign song has been gaining attention across Korea once again. It was recorded in 2015. BTS member Jungkook, EXO's Baekhyun, GOT7's Youngjae, and Red Velvet's Wendy were also among the K-pop stars who participate in the "One Dream One Korea" song. Other idols who lent their voices were EXID's Solji, Girl's Day's Minah, Wonder Girls alum Yenny, and more. South Korean President Moon Jae was also present in the video as a singing participant.
The song played in the finale of the historic North and South Korean summit last week. The two Koreas agreed, during the summit, to end their war after over six decades. The highlight of the event also includes the iconic shake hands and hug between South Korean President Moon Jae and North Korean leader Kim Jong Un.
Another track was produced by One K Global Campaign committee in 2017, titled "Korean Dream." The song featured domestic and overseas musicians like Dami Im, Peabo Bryson, Jung Dongha, and VOISPER. Watch the music videos for "One Dream One Korea" and "Korean Dream" below.
In other North and South Korea peace summit news, Seoul has also decided to stop blasting K-pop music along its borders amidst the new truce. Both countries mounted huge speakers in different areas along the border where the respective troops of the countries are stationed.
The South's speakers used to blast Korean pop music in high decibels and news reports that are critical of North Korea. The Pyongyang's speakers, on the other hand, have been playing reports critical for the South and its allies.
© 2022 Korea Portal, All rights reserved. Do not reproduce without permission.