BTS' Army Puzzle Of ' Euphoria: Theme of Love Yourself Wonder' Meaning; K-Pop Group Appears In Star-Studded Martin Luther King Jr. Tribute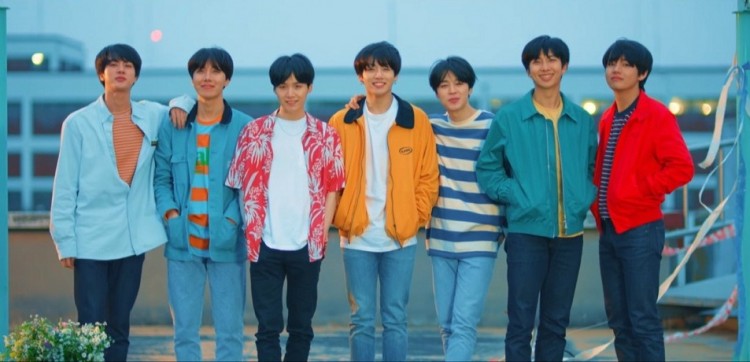 The BTS Army went into a frenzy when the K-pop band unexpectedly dropped a video of its new single, "Euphoria: Theme of Love Yourself Wonder." Big Hit Entertainment released a nearly nine-minute clip on April 6 at midnight KST. The intense video offers some hints of the upcoming album, Love Yourself: Wonder.
It is a short film and showcases a new track sang by Jungkook. The video opens up with BTS member V jumping into the ocean. The song "Euphoria" was revealed towards the middle of the clip. The band members are seen playing around with what seems to be a factory yard while flashing some of the happiest times of the group.
It was a very intense video. Dark scenes were featured in the clip. This includes Jungkook getting beaten up, and some members getting caught in a fire and trapped in a room. Nonetheless, the BTS Army doesn't mind at all. As expected, "Euphoria" received positive reactions from fans. It has more than 5.2 million views on YouTube as of the time of writing.
A number of scenes also made some fans wonder about its meaning. One scene featured Jin standing on top of a tall structure. He is holding a camera while his bandmates smile and wave to him from down below. The clip of V falling into the water was shown again before Jin stares and smiles into the camera. Then, the screen completely fades to black. Overall, many of the scenes left fans puzzled on what it could mean.
The new BTS video comes the same week that the K-pop group released their Face Yourself album in Japan, and BigHit Entertainment saw a $190 million investment from Netmarble Games. The clip was directed by Choi Yong Seok. So far, BTS has yet to announced a release date for their next album.
BTS Only K-Pop Act in Martin Luther King Jr. Tribute Video
The release of the BTS new video also coincides with the launch of Stevie Wonder's "Dream Lives On" project, marking the 50th death anniversary of Martin Luther King Jr. BTS has been considered as one of the most influential groups in the world, enough to be chosen as the only K-pop act in the star-studded MLK tribute video.
The Korean boy band joined the likes of former President Barack Obama, former First Lady Michelle Obama, Harry Styles, Katy Perry, Meryl Streep, Tim Cook, Paul McCarthy, Chadwick Boseman, and more than 70 other celebrities and world leaders. In the five-minute clip, the world's most influential people today talk about their own dreams for the future. BTS has one simple dream. The group said they would like people to love themselves.
© 2019 Korea Portal, All rights reserved. Do not reproduce without permission.