T-Ara's Jiyeon Sheds Tears At Malicious Comments After Breakup With Lee Dong Gun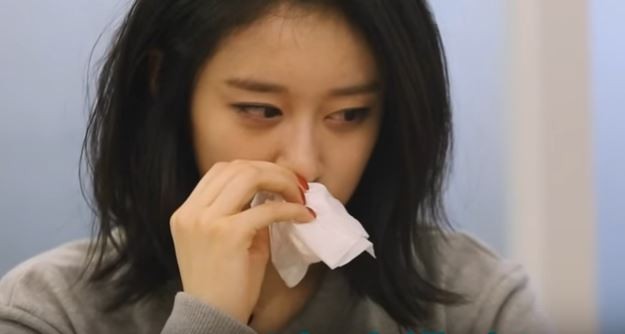 T-Ara's Jiyeon shed tears as netizens attacked her with malicious comments just a day after news of her breakup with actor Lee Dong Gun came out.
The 23-year-old singer-actress wasn't able to hold back tears during a live broadcast on social media as harsh comments came out that brought back her past controversies.
Jiyeon communicated Tuesday with her fans from across the globe through the live broadcast feature on Instagram.
"I'm okay," she said as fans began comforting her after the former couple confirmed news of their breakup.
"They have decided to end their relationship and maintain a sunbae-hoobae relationship. Their schedules were so busy that they neglected to meet often, and so they broke up just like any other couple would," said an entertainment official to Ilgan Sports, according to Koreaboo.
Jiyeon dated the "Lovers in Paris," who's 13 years her senior, in 2015 while filming their movie "Encounter."
Some netizens, however, posted negative comments that reportedly brought Jiyeon to tears.
"Did you sleep with Lee Dong Gun?" allkpop quoted one netizen as saying.
Others also attacked the T-Ara member with past controversies.
"Why did you bully Hwayoung?" asked one.
"Is it true that you filmed a self-body cam?" asked another.
One more criticized her, "You're a slut."
Jiyeon and the rest of the T-Ara members Eunjung, Hyomin and Boram were rumored to have bullied former member Hwayoung who left the group in 2012. The girl group suffered a dip in popularity as controversies of internal discord haunted them.
Jiyeon was also involved in another controversy that liked her to an underage look-alike in a strip video chat.
Her management label Core Contents Media denied that the female in the video was Jiyeon.
"Our company has watched and analyzed the video, and even asked Jiyeon whether it was her or not. We came to the conclusion that it is just a female that happens to look like Jiyeon," stated the company.
© 2023 Korea Portal, All rights reserved. Do not reproduce without permission.
Tags:
T-Ara's Jiyeon
,
Lee Dong Gun and T-Ara's Jiyeon
,
T-ara
,
Lee Dong Gun and T-Ara's Jiyeon break up
,
Lee Dong Gun
,
Jiyeon strip video controversy
,
Jiyeon controversy
,
Jiyeon bullying
,
T-Ara controversy
,
T-Ara bullying
,
T-Ara bullies Hwayoung
,
T-Ara's Hwayoung
,
Hwayoung
,
T-Ara's Eunjung
,
T-Ara's Hyomin
,
T-Ara's Boram