Big Bang Reveals Weakest Member, Most Romantic, And Crybaby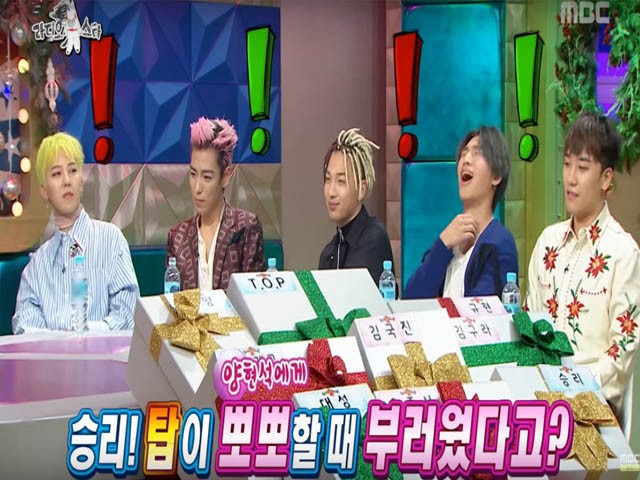 K-Pop idol Big Bang identified who among them they considered as the weakest, most romantic, funniest, and who cried easily.
Fans got to know the Big Bang members better when they guested on MBC's "Radio Star" on the two recent installment episodes.
Big Bang's group leader G-Dragon claimed to be the weakest member of the group.
"I am the weakest out of the group. The other members work out...," allkpop quoted the 28-year-old singer-songwriter as saying on Wednesday's second installment.
He hyperventilated during a concert after performing as GD & T.O.P., GD & Taeyang and for his solo performance.
"I did 10 songs in a row. In the middle of it, I was hyperventilating," he said.
The 27-year-old Daesung, also known as D-Lite, turned out to be the funniest when he chimed in and shared his thoughts on the incident. He said he watched the staff hurried up to and massaged G-Dragon but he thought it was just an act.
"Weirdly, he was the only one who hyperventilated when we were shooting for a DVD [too]," he said.
Daesung also didn't hold back on MBC's "Infinity Challenge" on December 17 when he said that Big Bang's income kept the band together over the years.
The band's main rapper and oldest member T.O.P., whom G-Dragon previously said was crying a lot these days, admitted he cried hard while reading Taeyang's handwritten letter for him. He said it was the first letter he received from another man and shared what made him cry eight months ago.
"It said at the end, 'I love you,'" Soompi quoted T.O.P. as saying. "It's a phrase that is very hard for men to say to each other because we're shy about it."
He also revealed that 28-year-old Taeyang is very romantic. Taeyang said he writes letters for his girlfriend Min Hyo Rin regardless of occasions and just whenever he thinks of her. He also remains the only member who admitted to a relationship and confessed that he wrote "Eyes, Nose, Lips" for her.
Youngest member Seungri, meanwhile, said he's the one into the business which was why he kept 3,200 phone contacts.
Seungri also attracted a series of various controversies.
© 2023 Korea Portal, All rights reserved. Do not reproduce without permission.
Tags:
Big Bang
,
Radio Star Big Bang
,
Radio Star
,
G-Dragon
,
Bigbang G-Dragon
,
Daesung
,
Big Bang Daesung
,
T.O.P.
,
BIGBANG T.O.P.
,
T.O.P. cries often
,
Taeyang
,
Bigbang Taeyang
,
Taeyang and Min Hyo Rin
,
Taeyang Eyes Nose Lips
,
Taeyang love life
,
Taeyang girlfriend
,
Seungri
,
BIGBANG Seungri
,
Seungri scandal