G-Dragon Exposes T.O.P. Who 'Cries Often These Days' And Losing Weight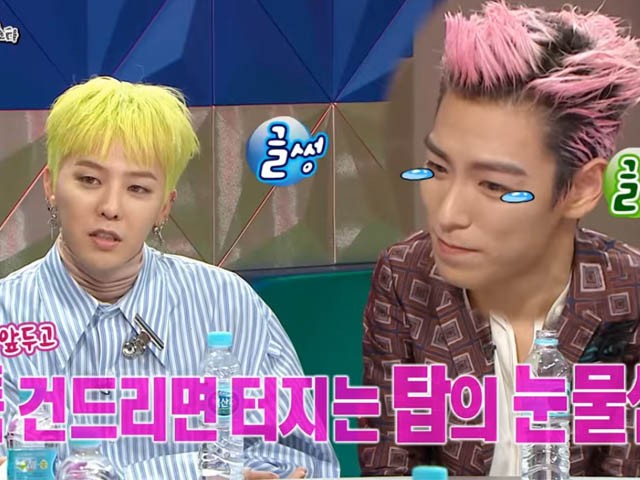 Big Bang leader G-Dragon let out that group member T.O.P. gets sensitive nowadays as the latter's military enlistment draws nearer.
The members of Korea's biggest and globally successful boy band guested Wednesday on MBC's "Radio Star." This is where singer-songwriter and fashion icon G-Dragon divulged how T.O.P. copes with the reality of his approaching military enlistment. The 29-year-old main rapper and Big Bang's oldest member will enter into military duty February 2017.
"T.O.P cries often these days....He's sensitive," revealed G-Dragon, as reported by allkpop.
The 28-year-old group leader added that T.O.P. has also been losing weight.
"I eat a lot, but I keep losing weight...," T.O.P. admitted.
Super Junior's Cho Kyuhyun, who hosts the show together with Kim Gook-jin, Yoon Jong-shin and Kim Gura, related with what T.O.P.'s going through as he's also scheduled to enter into military duty next year.
"That's what happens when you're about to go to the military," said Cho Kyuhyun.
The MCs then cracked everyone up when they asked their fellow host, "How come you're getting fatter?"
Even before their guest appearance on the show, T.O.P. already confessed that his military enlistment still feels "unreal" for him.
"I have about 2 months before I enlist but this feels unreal to me," T.O.P. said in recent interview, according to allkpop.
He added, "Currently, I'm not putting any special meaning into military enlistment. The only thought I have is that military is somewhere I must go. As a member of Big Bang, I'm continuing to work hard on music and focusing on Big Bang."
The rapper registered as a police officer under his real name Choi Seung-Hyun on October 25 while the application result was announced November 11.
The rest of the Big Bang members are expected to follow his footsteps with G-Dragon and Taeyang enlisting next year and the last two - Daesung and Seungri - the year after.
© 2023 Korea Portal, All rights reserved. Do not reproduce without permission.