Why Big Bang's Seungri Keeps 3,200 Phone Contacts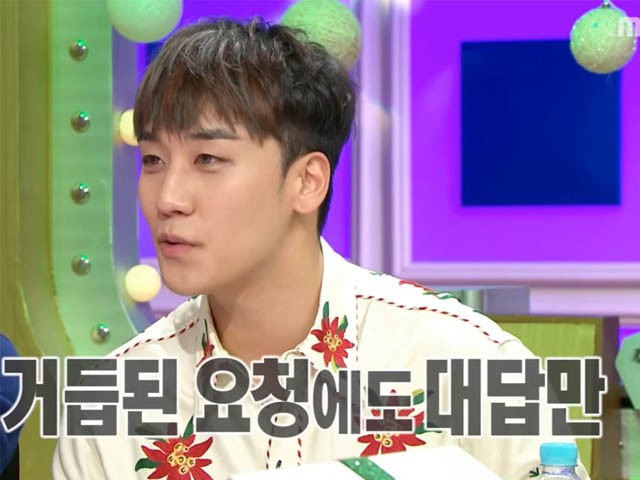 Big Bang's youngest member Seungri confessed he's got more than 3,000 numbers on his phone and revealed why.
Big Bang made a rare appearance as a complete group when they guested Wednesday on MBC's "Radio Star." The 26-year-old Big Bang member identified himself as the businessman in the group and claimed to own several businesses including a bar and a ramen restaurant as well as 3,200 numbers on his mobile phone.
"I get bad feedbacks whatever I do when I am inside of Big Bang, so I relieve that stress by doing business...I got scammed a lot over the past 10 years while doing it, but nowadays, I have had some successes," allkpop quoted Seungri as saying.
Big Bang group leader G-Dragon attested to this fact.
"After a concert, the members are tired since usually there's a concert the next day so we just eat, just the four of us, but Seungri always has a plan somewhere else," said G-Dragon.
More than a businessman and the youngest member, however, Seungri also turns out to be the one who's gotten himself involved in most scandals.
Japanese magazine Shukan Bunshan recently released an interview with a Japanese hostess who claimed to have been Seungri's girlfriend for more than a year.
In 2012, Japanese weekly magazine "Friday" also leaked photos that captured the singer shirtless in bed and an interview with a Japanese woman who claimed to have had a one-night stand with him.
The older Big Bang members admitted that they scolded Seungri for the sex scandal.
"That makes sense, does it not? This is the kind of mistake a person can make, and actually, being like brothers, we can forgive or understand such a mistake," said Taeyang during a talk segment for G-Dragon's "GD Friends Live Worldwide," according to Soompi.
Taeyang added that Seungri spent time self-reflecting and promised not to do the same mistakes again.
Seungri, unfortunately, has since been involved in a series of various scandals.
© 2023 Korea Portal, All rights reserved. Do not reproduce without permission.