Moon Ga Young Reveals The Undisclosed Story Behind Her Back Tattoo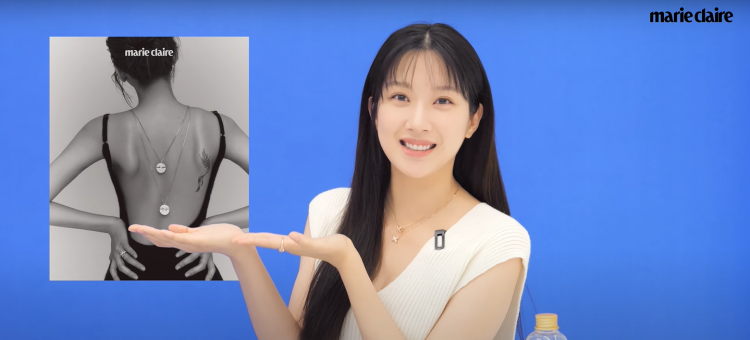 Moon Ga Young finally revealed the personal meaning of her back tattoo during a collaboration video with the beauty and fashion magazine, Marie Claire.
In a YouTube video titled "Moon Ga Young 10 Favorites", the "True Beauty" star shared many interesting stories about items like her favorite beauty products and her cherished childhood mementos.
READ: Kim Yoon Jin Reports The Burden Of Her "Thriller Queen" Title
Eventually, she got to talk about the special tale behind her favorite tattoo. A shot of her back tattoo was shown on screen that was taken during a previous black-and-white photoshoot with the fashion magazine.
The tattoo was first publicly noticed when the actress appeared at AAA Awards 2021. She rocked a pure white dress that showed off her bare back. At the time, the tattoo quickly drew attention and sparked debate on its authenticity.
The star mentioned that online discussion considered the possibility that her tattoo might have been a sticker. She then confidently settled the mystery by saying "actually, it's a tattoo that I did. And I really like it."
READ: "Little Women" Received Backlash For "Distorting History", Screenwriter Responds
According to Moon Ga Young, getting a tattoo has always been a wish of hers. She shared the story of when her mom had a dream of an Archeopteryx, which is a feathered dinosaur, and that it was covered with jewels. It was that memory that inspired the art of her tattoo.
The actress expressed that she's happy to finally get a chance to talk about her tattoo and how much she likes it.
Upcoming Series
Moon Ga Young will be making a drama comeback soon in the romance series "Understanding of Love," together with Yoo Yeon Seok, Geum Sae Rok, and Jung Ga Ram. The show is expected to launch somewhere around the fourth quarter of this year.
You can watch her interview with Marie Claire here.
© 2022 Korea Portal, All rights reserved. Do not reproduce without permission.