Adorable Regrets: IU Talks About Her Aegyo Moment During The 2022 Cannes Film Festival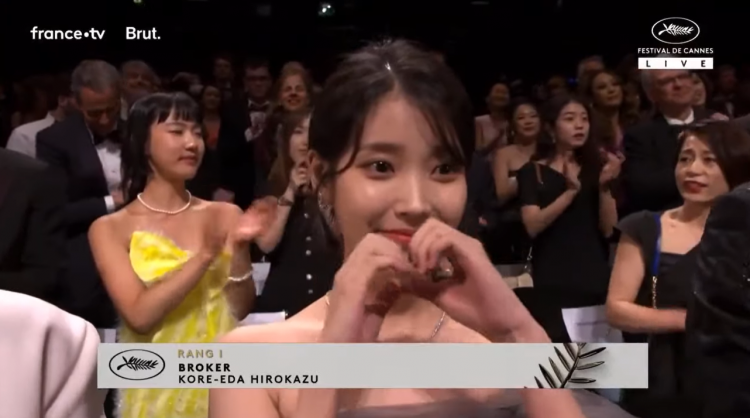 Last month, IU and her fellow "Broker" made their way to the 2022 Cannes Film Festival to promote their film. The K-Pop star stunned fans with her visuals. But one specific event during the premiere melted the hearts of UAENAs.
READ: Lee Joo Young Spills The Tea On What She Found Out About IU While At Cannes
Fans know IU for disliking aegyo moments, yet she is also immensely adorable. Thus, during the premiere of "Broker," IU accidentally did an iconic aegyo heart for her global fans.
Amazingly, IU went viral overnight. A month later, netizens can not stop talking about her iconic aegyo moment. Fans joked that even though IU was at the festival as an actress, her inner K-Pop idol still went out.
Back to being IU for a second pic.twitter.com/ksL6rRDpQ0 — Words by IU (@wordsbyIU) May 26, 2022
During an interview, IU recently revealed her brutal thoughts about her aegyo moment. Though fans are obsessed with the moment, the idol seemed to regret what she did. In the interview, IU expressed that it was something she regrets.
IU explained, "It's a moment I've regretted a lot. Even when I look back at it, I look like an idiot. It's really hectic and a large camera zooms in on you. So I didn't know what expression to have, it was a mistake."
Furthermore, IU then shared that it was almost instinctive for her due to her idol training. Though the idol revealed she was embarrassed about her aegyo moment. Even she realized how viral her aegyo became due to the memes.
"Because I am an idol, I was taught not to have a 'blank take,' so I attempted a heart. As soon as I did it, I remember being embarrassed. Of course, the fans have made many memes out of the moment," IU adorably expressed.
READ: Part-Time Millionaires: Cha Eunwoo, IU, & More, Korean Celebrities With The Highest Paying Second Jobs
Regardless, IU has nothing to be ashamed of as she was immensely adorable during her aegyo moment!
© 2023 Korea Portal, All rights reserved. Do not reproduce without permission.
Tags:
kwave
,
kwave news
,
kwave updates
,
Kpop
,
kpop news
,
Kpop updates
,
EDAM
,
EDAM artists
,
EDAM IU
,
Edam Entertainment
,
Edam Entertainment artists
,
Edam Entertainment IU
,
IU
,
IU news
,
IU Updates
,
IU aegyo
,
aegyo
,
IU aegyo Cannes
,
IU aegyo 2022 Cannes Film Festival
,
2022 Cannes Film Festival
,
2022 Cannes Film Festival news
,
2022 Cannes Film Festival updates