Serving Smiles To Fans: K-Pop Idols Who Successfully Failed In The Kitchen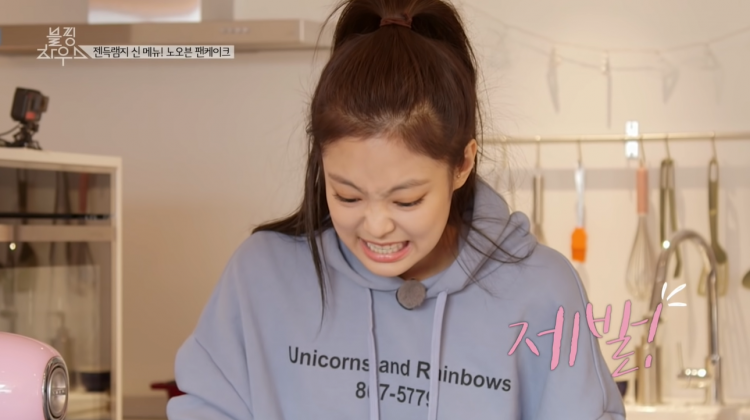 Some people were born to be in the kitchen while some were born to stay well away from it. If you are among the people who belong to the latter category, don't sweat it. Even the most talented K-Pop idols also have some mishaps in the kitchen.
READ: A Plethora Of 'Red Velvet Flavors': Irene, Seulgi, Wendy, Joy, & Yeri's Favorite Foods
Notably, here are K-pop idols who might have failed in the kitchen but were successful in putting a smile on their fans' faces:
BLACKPINK's Jennie
Jennie is a queen in K-Pop. The YG princess doesn't need anyone to tell her what to do (but perhaps she should've listened to herself in this instance). In an episode of "BLACKPINK HOUSE," she flips one pancake too early and one pancake too later. This made the first batch leave a mess due to the batter and the second one became fully blackened.
BTS's Jungkook
Everybody knows that the BTS maknae has a sweet spot that no one can resist. But it seems like Jungkook himself couldn't hold back on the sweets. Notably, glazed sweet potatoes need a lot of hot sugar. But it seems like the idol used too much as his dish literally became glued to the pad, to the delight of his fellow BTS members.
READ: Hungry 'Boys With Luv': How To Eat Like The Members Of BTS
TWICE's Nayeon
In an episode of "TWICE TV," Nayeon proved that baking and cooking are different things. During the episode, the TWICE member was too focused on hitting her dough rather than shaping them. Adorably, the final creations came out amazing and ONCEs praised Nayeon.
NCT's Mark
NCT's Mark is horrible at frying eggs. Thus, a challenge, the NCT Dream member had to successfully fry 23 eggs. NCTzens were not surprised by the outcome but at least Mark tried his best.
TREASURE's Jihoon and Hyunsuk
TREASURE's Jihoon and Choi Hyun Suk showed how something so simple can sometimes go wrong in every way. In the first episode of "The Idol Ramyeonators," the two idols went on to make happy accidents with their ramyeon creation.
STAYC's Seeun
Another appearance for pancakes on this list, STAYC's Seeun did not stand a chance against Korean savory pancakes. The idol accidentally crushes one into pieces and flips another a little too hard, making hot oil go everywhere.
© 2023 Korea Portal, All rights reserved. Do not reproduce without permission.
Tags:
kwave
,
kwave news
,
kwave updates
,
Kpop
,
kpop news
,
Kpop updates
,
BLACKPINK
,
blackpink jennie
,
Jennie
,
BTS
,
BTS Jungkook
,
Jungkook
,
TWICE
,
TWICE Nayeon
,
Nayeon
,
NCT
,
NCT Mark
,
mark
,
Treasure
,
Treasure Jihoon
,
Treasure Hyunsuk
,
Hyunsuk
,
jihoon
,
STAYC
,
STAYC Seeun
,
Seeun